Product Description
RY-F600 Fusion Splicer w/Optical Fiber Cleaver automatic focus function 5.6" LCD.
5.6" LCD RY-F600 Fusion Splicer w/Optical Fiber Cleaver Automatic Focus Function
Get RY-F600 Fusion Splicer for 5 Reasons:
1. Fiber core can be display clearly
2. Auto detect cleaved endface fault
3. Display core and clad offset
4. Display fiber cleaved and offset angle
5. 5.6 inch TFT color LCD monitor with clear digital image display
RY-F600 Fusion Splicer Features:
1. USB & VGA interface
2. Software upgrade via USB interface.
3. Single X or Y view and X & Y view simultaneously
4. Digital fusion splicer with automatic focus function
RY-F600 Fusion Splicer Specifications:
Model
RY-F600
Applicable fibers
SM (ITU-T G.652), MM (ITU-T G.651), DS (ITU-T G.653), NZDS (ITU-T G.655)
Fiber cleaved length
10 ~16mm (Coating diameter<250m);16mm(Coating diameter250~1000m)
Fiber diameter
Cladding diameter:80 ~150m , Coating diameter:100 ~1000m
Auto focusing
Available
Fiber aligning method
Core aligning, clad aligning, manual aligning
Average splice loss
0.02dB (SM), 0.01dB (MM), 0.04dB (DS), 0.04dB( NZDS)
Splicing time
Typical 9 sec,with standard SM fiber
Heating time
Typical 36 sec
Applicable sleeves
60mm, 40mm and a series of micro sleeves
Tension test
2N(option)
Electrode life
5000
Battery capacity
Typical 400 cycles (splice and heat)
Monitor
5.1 inch TFT color monitor
Terminal
USB 1.1 and VGA , software upgrade via USB interface
Operating condition
0 ~ 5000m above sea level, 0 ~ 95%RH and -10~50oCC,
respectively,Max. wind velocity of 15m/s
Splicing mode
Auto ,normal
Fiber cleaved angle threshold set
0.1 ~ 10.0oC , 0.1oCstep
Power supply
Li-battery 11.8V, AC100-240V DC12.6V/5.0A
Dimension
L169*W152*H155mm
weight
2.4kg 2.9kg(battery)
RY-F600 Certification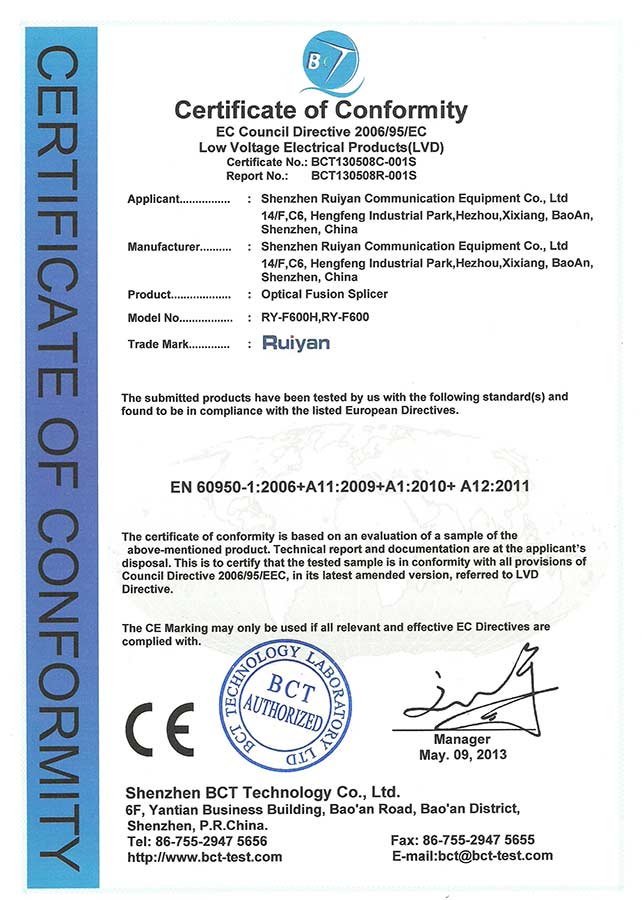 RY-F600 Fusion Splicer Package Including:
1 x Fusion Splicer Machine
1 x Fiber Stripper
1 x Optical Fiber Cleaver
1 x Alcohol box
1 x Tweezers
1 x Charger
1 x Spare Electrodes
1 x Cotton swab
1 x Hairbrush
1 x Bellows
1 x Cooling Tray
1 x Product qualification certificate
1 x Warranty card
1 x User's manual
If you have any questions, please feel free to contact us by following way:
Email: Sales@iDiyTools.com
Whatsapp: 0086-18046220975
Shipment Warm Tips:
We only ship to the address on Paypal. If you require a specific address to ship the order to, please make sure that you enter this in the Paypal confirmation before confirming payment. We will not ship to any other address under any circumstances. If you have asked for a change in address please add your shipping address on your paypal account,please leave a message on paypal when you check out, or send us the
screen shot of new shipping address under paypal account
to sales@iDiyTool.com or whatsapp:+86 18046220975.