Product Description
8848A Signal Fire Optical Fiber Fusion Splicer
8848A Signal Fire Optical Fiber Fusion Splicer
8848A Fusion Splicer Feature:
1. Large capacity lithium battery, charging times of up to 300-500 cycles
2. Bright low-power LED lights, 5.6 inches LCD screen
3. Interface is simple, with humane, intelligent menu design
4. USB port for easy data download and software updates
5. Recessed wind cover, can perform fusion at 15M / S strong winds
6. High-accuracy V-groove, high precision, good abrasion resistance
7. Stable performance of dual observation, tune core type fusion machine.
8. Typical fusion time: 8 seconds
9. Typical heating time: 30 seconds
10. Shockproof, dustproof, rainproof
11. Display magnification: 250 times
8848A Fusion Splicer Specification:
Applicable fiber: SM, MM, DS, and NZDS
Actual average loss: 0.02dB(SM)、0.01dB(MM)、0.04dB(DS)、0.04dB(NZDS)
Fusion Time: 8~15s
Heating Time: 0~90 Seconds,
Typical heating time: 30 seconds (Miniature heat shrink tubing)
Fiber Display: X and Y-axis independent display
Measurement / Weight: 158MM*173MM*186MM / 2.6kg
Display: 5.6 inches LCD screen, anti-reflective surface with a transparent protective plastic
Return loss and wind speed: ≥60dB,15m/s
Operating environment: -10~+50℃(temperature),0~95%(humidity),0~5000m(altitude)Data storage environment: -40~+80℃temperature),0~95%(humidity)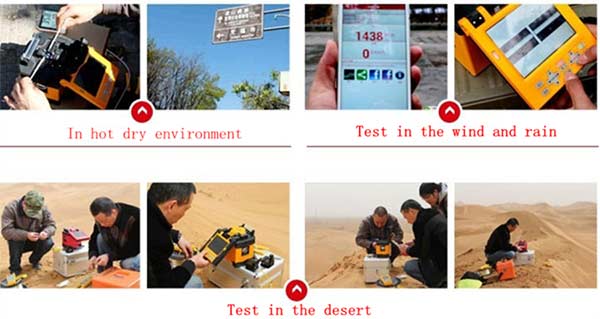 8848A Fusion Splicer Package including:
1pc x Fusion splicer
1pc x Fiber cleaver
1pc x Miller stripper
1pc x Wire stripping pliers
1pc x Power Adapter
3pc x Fiber clamp for covered with rubble wire
1pc x Fiber clamp for jumper wire
1pc x Alcohol Bottle
1pc x User's Manual Book
1pc x Warranty Card
1pc x PC Quality Certificate
1pc x Strap for carrying case
1pc x USB cable
1pc x Cooling Tray
If you have any questions, please feel free to contact us by following way:
Email: Sales@iDiyTools.com
Whatsapp: 0086-18046220975
Shipment Warm Tips:
We only ship to the address on Paypal. If you require a specific address to ship the order to, please make sure that you enter this in the Paypal confirmation before confirming payment. We will not ship to any other address under any circumstances. If you have asked for a change in address please add your shipping address on your paypal account,please leave a message on paypal when you check out, or send us the
screen shot of new shipping address under paypal account
to sales@iDiyTool.com or whatsapp:+86 18046220975.