Product Description
WS1361 Digital Sound Level Meter Pressure Tester has been designed to meet the measurement requirement of safety engineers, health, industrial environment, which include factory, traffic, family baby's living room, wind farms, sports stadium, airport, urban, city noises and audio system.
WS1361 Digital Sound Level Meter Pressure Tester 30-130dB Decibel USB Noise Measurement
WS1361 Digital Sound Level Meter Pressure Tester
is an advance environmental Noise monitoring system, monitors environment noise from a singal station to a mutiple stations.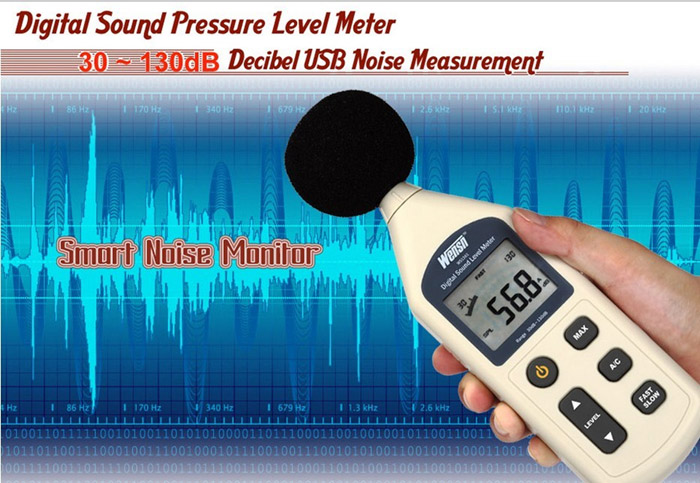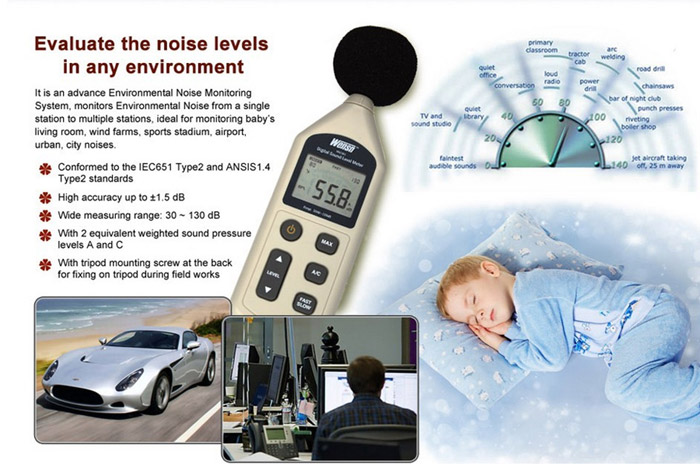 WS1361 Digital Sound Level Meter Features:
100% Brand New and High Quality
Conformed to the IEC651 Type2 and ANSIS1.4 Type 2 Standards
Accuracy: ±1.5dB
Measuring range: 30-130dBA or 35-130dBC
Frequency weighting: A and C
Time weighting: Fast & slow
AC and DC output for frequency analyzer level recorder, FFT analyzer, graphic, graphic recorder etc.
The meter can be connected PC with USB
Large LCD screen with digits reading
Portable, easy-to-use and handy instrument
WS1361 Digital Sound Level Operation Environmental condition:
Below 2000 meter in height
Operating condition: 0℃~40℃, 10~80%RH
Use dry cloth to clean the unit, but never with any solvent.
WS1361 Digital Sound Level Specification:
Frequency range:31.5Hz~8.5KHz
Level range: 30~80dB, 40~90dB, 50~100dB, 60~110dB, 70~120dB, 80~130dB, 30~130dB
Linearity weighting: 50dB
Frequency weighting: A/C
Digital display: 4 digits
Resolution: 0.1dB
Sample rate: 2times/second
Bar graph: 50dB scale 1dB step for monitoring current sound pressure level display Sample rate: 20 times/second
Over indication: OVER/UNDER
AC output: 0.707Vrms at FS output impedance approx 600ohm
DC output: 10mV/dB, output impedance approx 100ohm
Time weight: FAST/SLOW
Microphone: ½ inch electret condenser microphone
Max hold: MAX
Power supply: 1.5V AA alkaline battery (the battery is not included)or USB 5V 100mA
Power life: About 30 hours(alkaline battery)
Self calibration: 4S
Operating condition: 0℃~40℃, 10~80%RH
Storage condition: -10~50℃, 10~80%RH
Size: Approx. 24 x 7 x 3.5cm/9.45 x 2.76 x 1.38inch
Caution:
1. Do not operation the meter at high Humidity environment.
2. Please take out battery from the meter if not in use for long time.
3. Once using the meter in the presence of wind, it is a must to mount the sponge ball to not pick up undesired signals.
WS1361 Digital Sound Level Package Included:
1x Professional Sound Level Meter
1x Sponge Ball
1x USB Cable
1x Software CD
If you have any questions, please feel free to contact us by following way:
Email: Sales@iDiyTools.com
Whatsapp: 0086-18046220975
Shipment Warm Tips:
We only ship to the address on Paypal. If you require a specific address to ship the order to, please make sure that you enter this in the Paypal confirmation before confirming payment. We will not ship to any other address under any circumstances. If you have asked for a change in address please add your shipping address on your paypal account,please leave a message on paypal when you check out, or send us the
screen shot of new shipping address under paypal account
to sales@iDiyTool.com or whatsapp:+86 18046220975.