Product Description
U9800 series adopts the currently advanced 32bit CPU, high-denity SMT, 65k color 7-inch TFT wide display screen. Its operation is quite easy and its interface is user friendly. With maximum 5000V impulse voltage, 100Msps smapling rate and 6500bytes memory depth, U9800 series can test your instument more accurately. Applications of advanced technologies, such as standard sampling average, demagnetizing impulse, strong corona analysis and extraction and high-speed measuring, meet customers' increasing requirements for the test of small inductors
U9845 4-channels Impulse Winding Turns Tester Meter 100V~5000V 7" TFT Display
U9845 Features:
1. 65k color 7inch TFT wide display screen
2. Up to 100Msps smapling rate, 6500 bytes memory depth
3. Measuring speed: 15 meas/sec
4. Four waveform comparison methods: Area size/ Differential Area/
5. Corona Discharge/ Differential Phase
6. Good test repeatability ensure measuring stable
7. Strong corona analysis and extraction feature, find out the potential bad insulation problem
8. Automatic storage of parameters, boot file loading function
9. Pan and zoom of waveforms
10. Average times: 0 to 32
11. Automatic standard acquisition mode, choosing suitable sampling rate
12. Destructive testing for your correct choose of voltage
13. Under quick test mode, voltage and sampling rate can be modified in real time
14. Use demagnetizing impulse to ensure the conformity of test results.
15. Save key pressed to hardcopy current display into USB disk. (Support BMP, GIP, PNG and CSV)
16. Instrument firmware can be upgraded through USB
17. Foot-control interface for fast measurement
18. Handler, RS232C, USB Device, USB Host and GPIB ( opition )
19. Provide up to 4 channels testing.
Waveform zoom function
When the waveform is zoomed, the display area increase 50%,make the waveform displayed larger and easier to oberve.
Corona display function
U9800 series adopts 100Msps smapling reate and accurate extraction of the corona, it make the corona test result reliable.
U9845 Specification: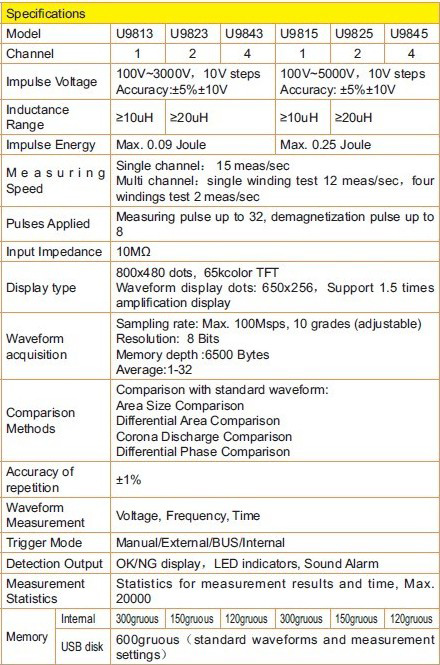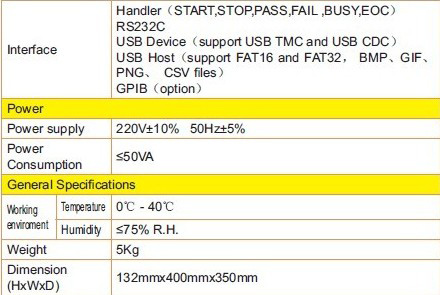 If you have any questions, please feel free to contact us by following way:
Email: Sales@iDiyTools.com
Whatsapp: 0086-18046220975
Shipment Warm Tips:
We only ship to the address on Paypal. If you require a specific address to ship the order to, please make sure that you enter this in the Paypal confirmation before confirming payment. We will not ship to any other address under any circumstances. If you have asked for a change in address please add your shipping address on your paypal account,please leave a message on paypal when you check out, or send us the
screen shot of new shipping address under paypal account
to sales@iDiyTool.com or whatsapp:+86 18046220975.