Product Description
Product Introduction:
NOYAFA NF-8508 network tester is a multifuctional tool which can do POE test, fault location, non-contact voltage detecting, etc. It is a perfect tool for the work of network line engineering and telecommunication, computer, other metal conductor maintenance, etc.
Product Features:
Checks fiber faults by emitting red lasers and tests optical power and attenuation value of light.
Tests the faults of short circuit, open circuit, and cross in a LAN network.
Traces a cable with strong anti-interference ability.
Judges a cable by flashing the switch/router port where the target cable is being plugged in.
Tests CAT6 / CAT6 cables of lengths of 10m to 200m.
Checks the existence and standard of PSE(power sourcing equipment), either IEEE 802.3af or 802.3at, in your network.
Tests the quality of the crimping of crystal heads.
Product Functions:
1. Multi-Function Network Cable Tester
1) PoE testing : identify which pins are providing power and detect how much voltage, identify which the type of PSE (at/af standard)
2) Measure cable length accurately, the range is 200m.
3) Two scan modes selectable: AC filter & Non AC filter
4) Test physical status for STP, UTP lan cable.
5) Hub blink for locating network port by the flashing port light on Hub / Switch.
2.Optical Power Meter & Visual Fault Locator
1) Measurement of the power of optical sender (dBm and W).
2) Can measure 7 standard wavelengths,850/1300/1310/1490/1550/1625/1650,
3) Insertion loss test of optical devices
4) Locating the fault of fiber breakage, winding and so on.
3.Other Functions:
1) Quickly to check the RJ45 plug (crystal head).
2) Detect AC voltage presence (50V-1000V).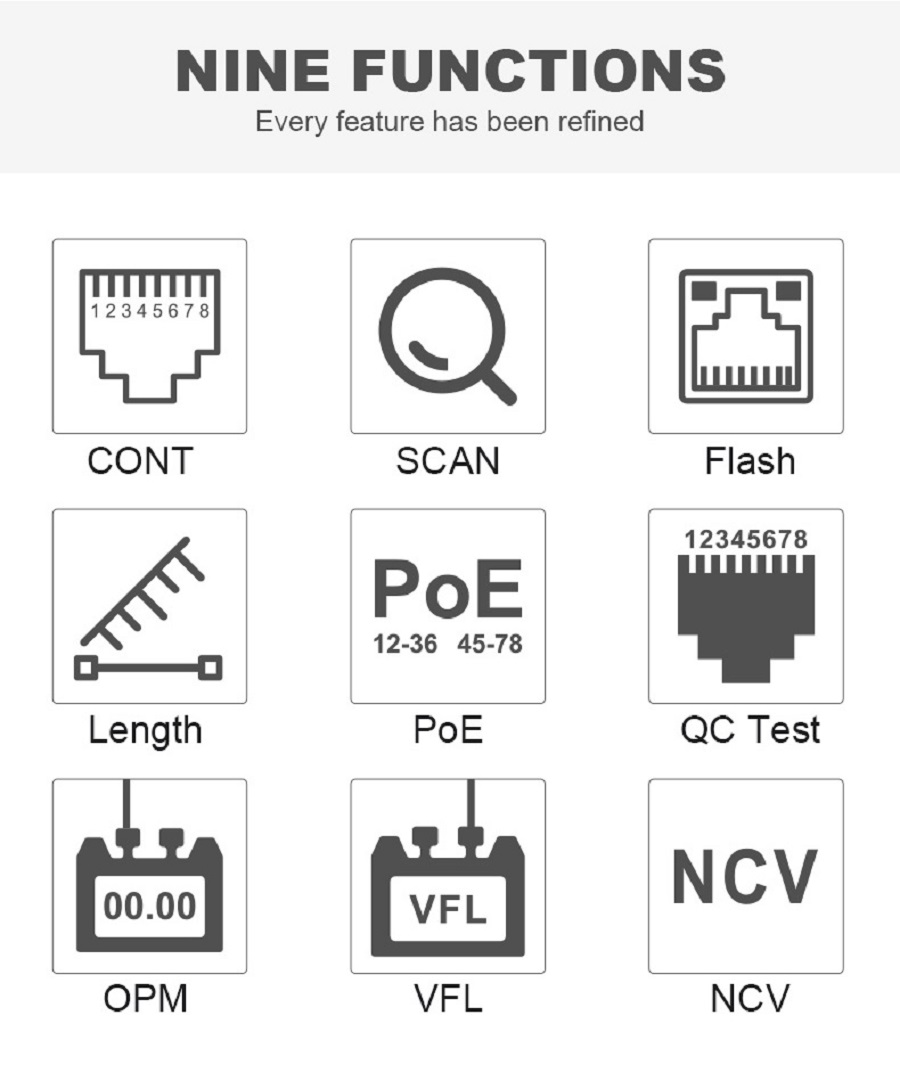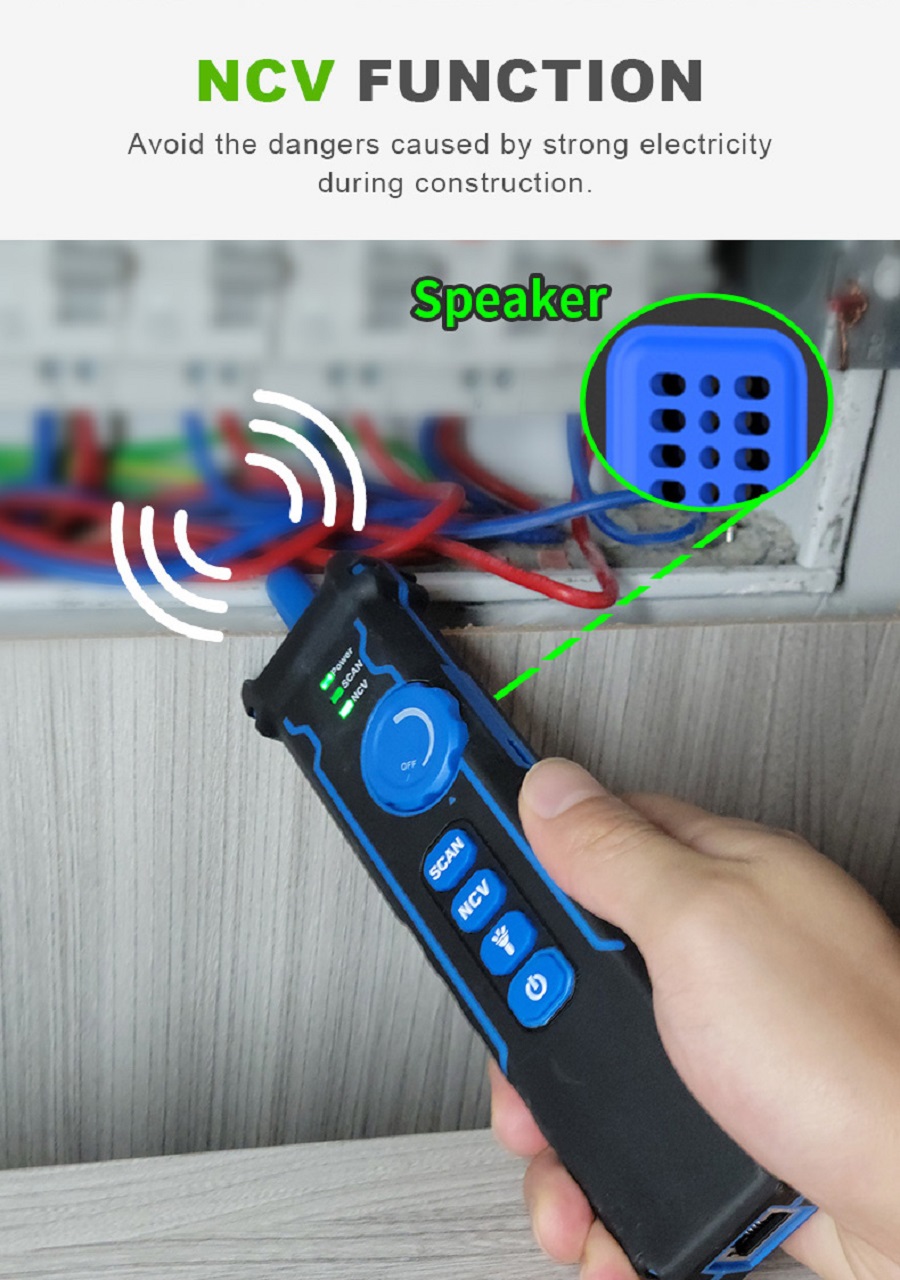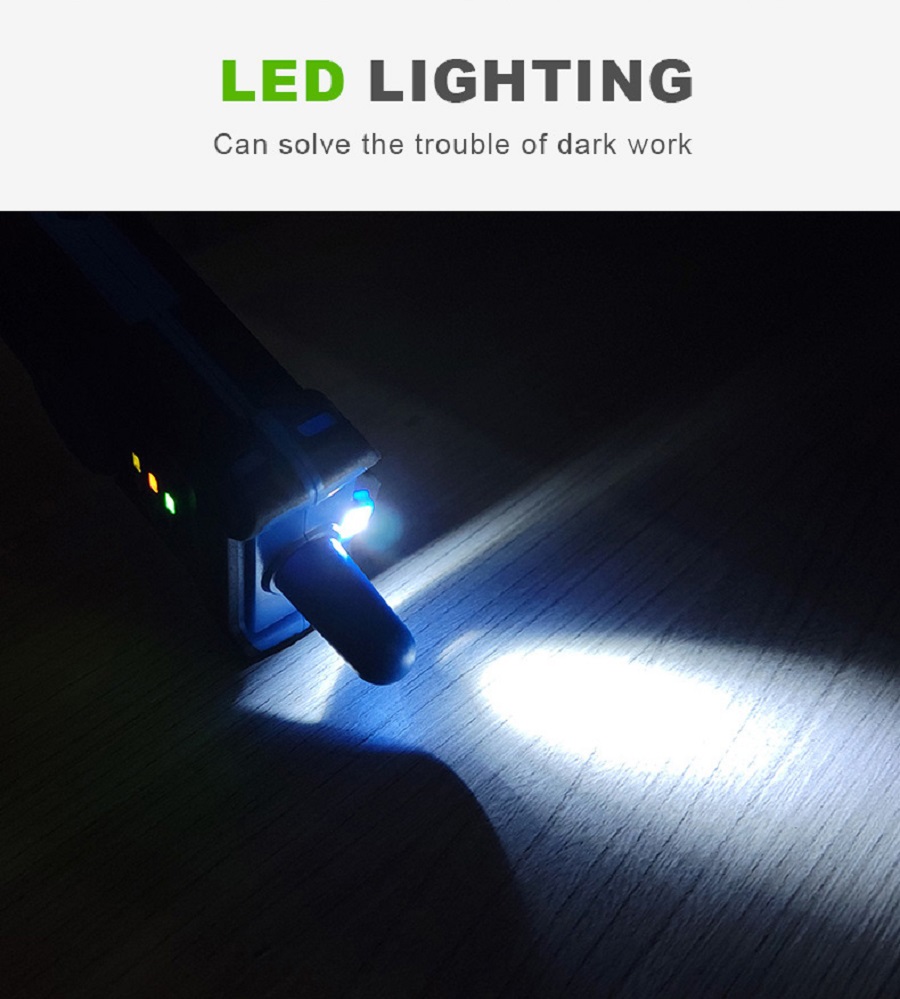 Product Specifications:
Transmitter
Wiremap
Cable type
CAT5, CAT6 (STP & UTP)
Test with switch directly
Yes
Max range
600m
Scan
Cable type
CAT5, CAT6 (STP & UTP)
AC filter
Yes
Max range
600m
Length
Cable type
CAT5, CAT6 (STP & UTP)
Test range
2~200m
Breakage location
Yes
POE
Test range
DC 5~60V standard / non-standard PoE switch
Voltage display
Yes
PSE type
IEEE 802.3af/at
Power meter
Power detecting range(dBm)
-70 ~ +10
Wavelength (nm)
800-1700
Probe
InGaAs
Detection limit
∮1.0mm
Standard wavelength
850, 1300, 1310, 1490, 1550, 1625, 1650nm
Display resolution
0.01dBm
VFL
Emitting Energy
10mw
Standard wavelength
650nm
QC for crystal head
Yes
Power supply
3.7V lithium battery
Low battery warning
2.7V
Auto-off time
15min, 30min, 60min, OFF
Voltage protection
DC48V 5mA
Dimensions (LxWxD)
148*70*32mm
Receiver
Sensitivity adjustable
Yes
AC Voltage detecting
Yes
Lamp
Yes
Battery type
3.7V lithium battery
Low battery warning
2.7V
Dimensions (LxWxD)
198*50*28mm
OEM / ODM : Yes
Brand Name : Noyafa
Model Number : NF-8508
Place of Origin : Shenzhen, China
Main Function : Multifunction Network Cable Tester/Optical Power Meter& Visual Fault Locator
Port: RJ45
Interface: SC
Wavelength: 850/980/1310/1490/1550/1625nm
Power : 3.7V lithium battery
Warranty : 1 Year
Package Includes:
1pc x transmitter
1pc x receiver
1pc x RJ45 adapter line
1pc x RJ11 adapter line
1pc x earphone
1pc x cable with clips
1pc x Type-C cable
1pc x user manual
1pc x quality certificate
1pc x carry bag
If you have any questions, please feel free to contact us by following way:
Email: Sales@iDiyTools.com
Whatsapp: 0086-18046220975
Shipment Warm Tips:
We only ship to the address on Paypal. If you require a specific address to ship the order to, please make sure that you enter this in the Paypal confirmation before confirming payment. We will not ship to any other address under any circumstances. If you have asked for a change in address please add your shipping address on your paypal account,please leave a message on paypal when you check out, or send us the
screen shot of new shipping address under paypal account
to sales@iDiyTool.com or whatsapp:+86 18046220975.