Product Description
M4070 LCR meter is auto-ranging component tester, can drive up to 500 KHz, suitable for small value capacitor and inductor measurement.
M4070 Auto Ranging LCR Inductance Capacitor Capacitance Resistor Resistance Meter 100H 100mF 20MR
M4070 Auto Ranging LCR Inductance Meter provides very stable and high resolution measurement up to 5 digits. Meter can measure 0.00pF to 100.00mF capacitance, 0.000uH to 100.00H and 0.00Ω to 10.000MΩ. This meter is using two technique measurement, LC oscillation and RC oscillation. LC is much suitable for small value measurement and RC for high value capacitance.
Discharge Capacitor before Testing!!
M4070 Auto Ranging LCR Meter Advantages:
1. Fully auto-ranging designed
2. High resolution, up to 5 digit display, finest resolution: 0.01pF, 0.001uH, 0.01R
3. USB charging with rechargeable battery inside
4. High stability and measurement range for L/ C/ R
5. Large LCD display with backlight
6. Large range test
7. Manual reset button
M4070 Auto Ranging LCR Meter Specification:
Model
M4070
LCR Testing Parameter
Main Parameter: L / C / R
Testing frequency
C: 10 to 500Khz
L: 10 to 360Khz
Testing Method
Auto select LC and RC Oscillation
Calibration
Power on auto calibrate with internal reference capacitor
Testing voltage
~1.5Vrms
Best Tolerance
L: 1% +1 Digit
C: 1% +1 Digit
R: 0.5% +1 Digit
CD update or Testing time (* vary on component value)
<3/s, (e.g. 100mF Capacitor <30s)
Range Selection
Automatically
Zeroing
Open / short circuit
Terminal
Mini-USB(Virtual Com Port)
Display Range
C
0.00pF ~100.000mF
L
0.000uH ~ 100.000H
Hz (LC Oscillation Frequency)
0 to 900000Hz
z) (RC Constant Time)
0.000 to 99.999
R
0.00 Ω ~10.000 MΩ
LCD Display
128X64 Dot Matrix, with backlight
Fuse Protection
200mA
Charging terminal
Mini-USB (500mA)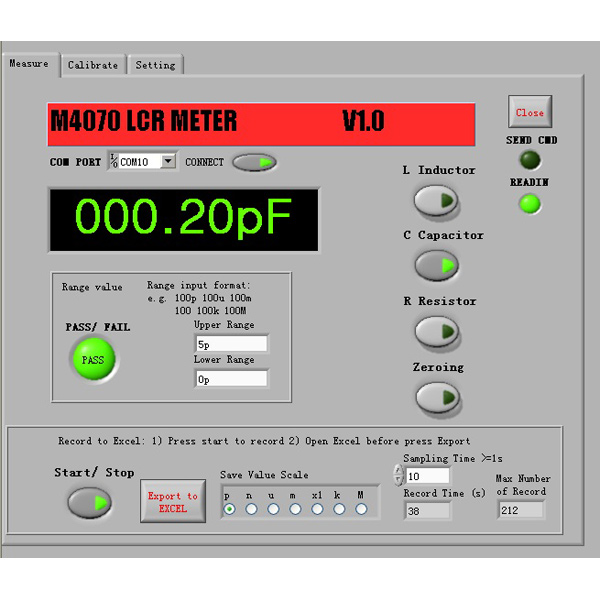 M4070 Auto Ranging LCR Meter Package Including:
1pc x M4070
1pc x USB Cable
1pc x User's Manual
1pc x Test clip
If you have any questions, please feel free to contact us by following way:
Email: Sales@iDiyTools.com
Whatsapp: 0086-18046220975
Shipment Warm Tips:
We only ship to the address on Paypal. If you require a specific address to ship the order to, please make sure that you enter this in the Paypal confirmation before confirming payment. We will not ship to any other address under any circumstances. If you have asked for a change in address please add your shipping address on your paypal account,please leave a message on paypal when you check out, or send us the
screen shot of new shipping address under paypal account
to sales@iDiyTool.com or whatsapp:+86 18046220975.