Product Description
Product Introduction:
Featuring the powerful Cortex-A9 processor, and a 7.0 inch LCD capacitive touchscreen, based on the Android multitasking operating system, and combined with the ability to quickly read and clear DTCs for all available modules of the majority of the makes and models on the market, the MaxiCOM MK808Z-BT is your ideal auto diagnostic and service tool. MK808Z-BT provides you with superior special functions, including Oil Reset, EPB(Electronic Parking Brake), SAS (Steering Angle Sensor), BMS (Battery Management System), and DPF (Diesel Particulate Filter).

Product Features:
NEW! Support active test and complete special functions,
NEW! Compatible with Videoscope and MaxiBAS BT506 to perform Battery Analysis,
Extraordinarily powerful Cortex-A9 processor (1.6 GHz) processor,
7-inch LCD capacitive touchscreen with 1024 x 600 resolution display,
Internal reliable 64GB On-board Memory for better performance,
Unique ergonomic design with rubberized outer protection and a rugged internal housing,
Android 4.4.2 KitKat Operating System for fast boot-up and multitasking,
Extensive vehicle coverage for more than 80 US, Asian and European vehicle makes,
Complete capabilities for codes, live data, electronic control unit (ECU) information, and vehicle control systems, etc.
Data Manager saves customer and vehicle records, scanner data and technician notes for future review,
Read/clear codes functions,
Display live data in text, graph & analog for easy data review,
Auto VIN technology can automatically identify the vehicle's make, model, and year information,
Reset Steering Angle Sensor (SAS),
Support forced DPF regeneration.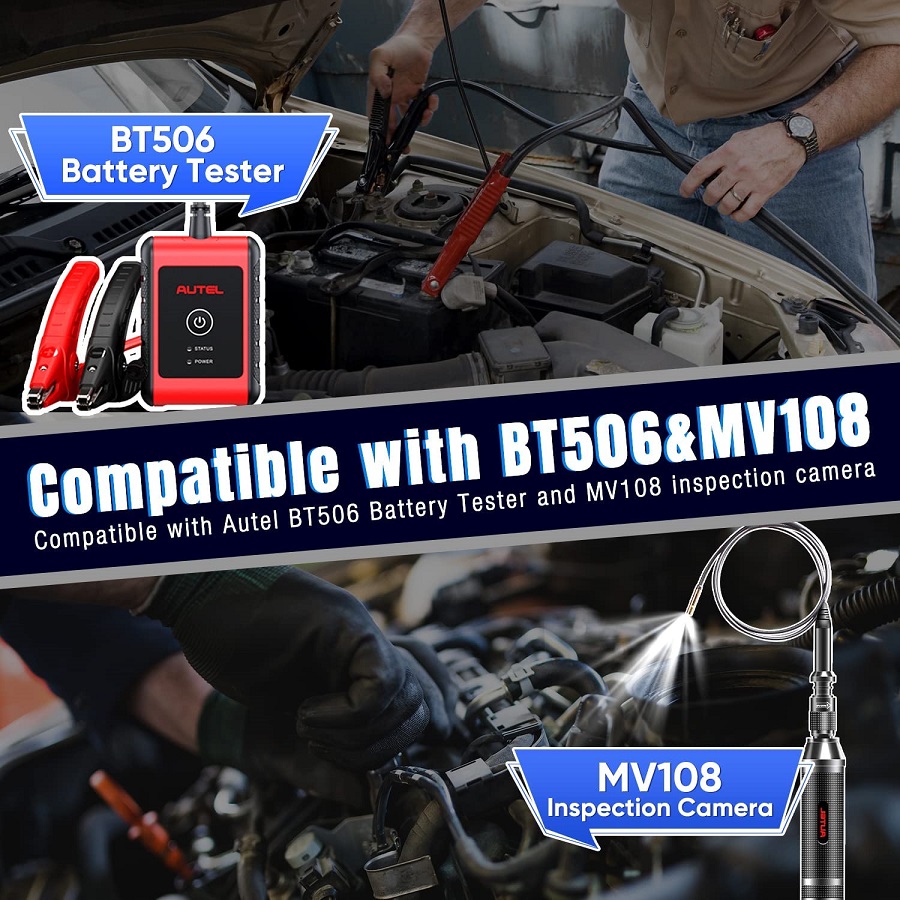 Product Highlights:
【2022 Autel Most Worth Buying Wireless Diagnostic Tool】Upgraded from MK808/ MX808, Autel MK808Z-BT is the most powerful wireless diagnostic tool for it's price! Equipped with multi-functions of wireless BT technology, Bi-Directional Control(Active Test), 28+ maintenance services, all systems diagnostic, Auto Scan & Auto VIN, 10,000+ vehicle coverage, Cloud-based report management, Compatible with Autel BT506 battery tester/ MV108, 1-year free update, multilingual etc. Designed for workshops & DIYers.
【2022 Added Functional Benefits】Autel MaxiCOM MK808Z-BT has been added $300+ valued powerful functions, namely: Bi-Directional Control(Active Test), 28+ Services, battery test(Autel BT506 required), which MK808 wired tool doesn't support, compatible with MV108, "Auto Auth" gateway for 2018 and newer FCA cars(Chrysler/Dodge/Jeep,etc) for US/Canada & Mexico. All these functions are available(V2.62 and above) to download for all MK808Z-BT on 1st, June, 2022. Autel is dedicated to make life easier!
【Equipped VCI Mini, USB Wired+Wireless Diagnostic】Do you want to get out of your narrow driving seat for a car diagnosis? MK808Z-BT CAN DO IT! Compared with the old wired diagnostic tool MK808, MK808Z-BT equipped with wireless BT technology, up to 33ft(10m) working range, enabling wireless diagnostic with more stable and faster data transmission. This way you can check any part of your car while holding the MK808Z-BT or, as users commented, perform a diagnosis while sitting in a comfortable chair.
【28+ Maintenance Services, Everything for you】How much did you spend on maintaining your car? In fact, experience tells us that just a small repair service may cost a lot of money. So Autel MK808Z-BT are actively reducing the unnecessary expense by integrating 28+ services, meeting most of maintenance needs, such as Oil/EPB/SAS/DPF/BMS/ABS Bleed/Injector, etc. Note: Service functions vary by vehicle, please send VIN to us to check compatibility before order.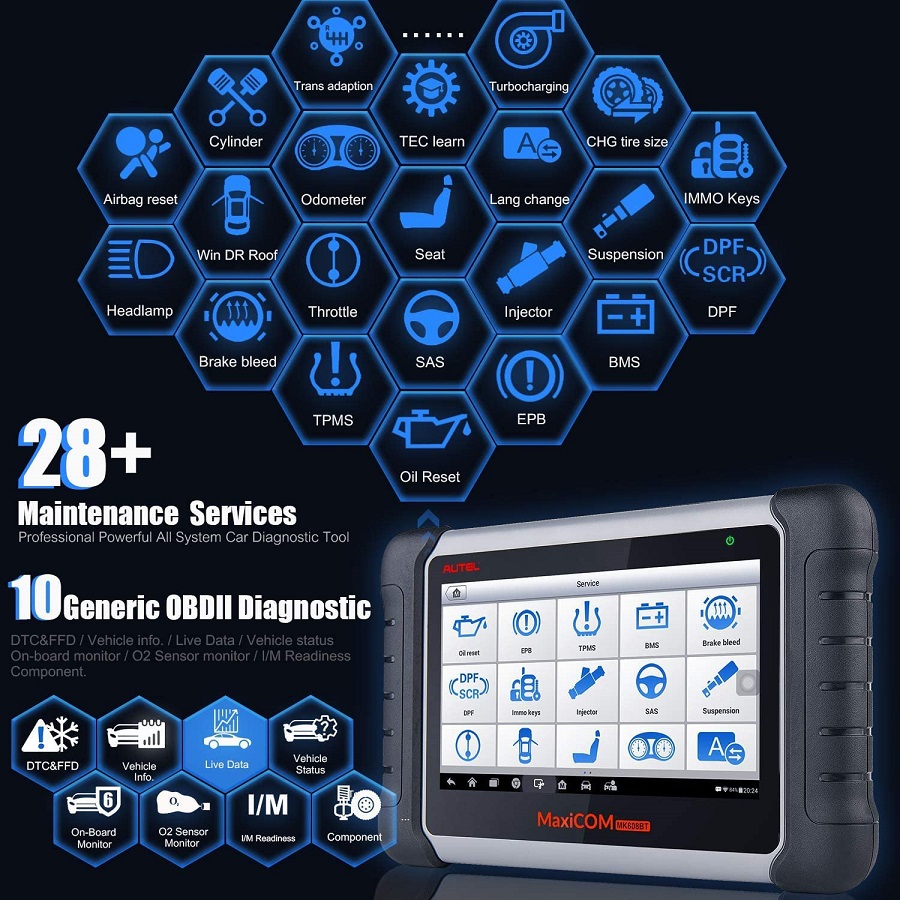 【Bi-Directional Control/Active Test】What would you do if the wipers stopped working? Just replace one or spend a lot money to fix it? Don't be in a hurry to dismantle your cars. Bidirectional control tool MK808Z-BT can perform real active test that can send commands to the vehicle's ECU to drive the actuators to work, like ABS, window, door, solenoids, valves, wipers, headlamp, etc., helping you quickly find out bad parts and pinpoint faulty issues. Note: NOT universal, please check compatibility.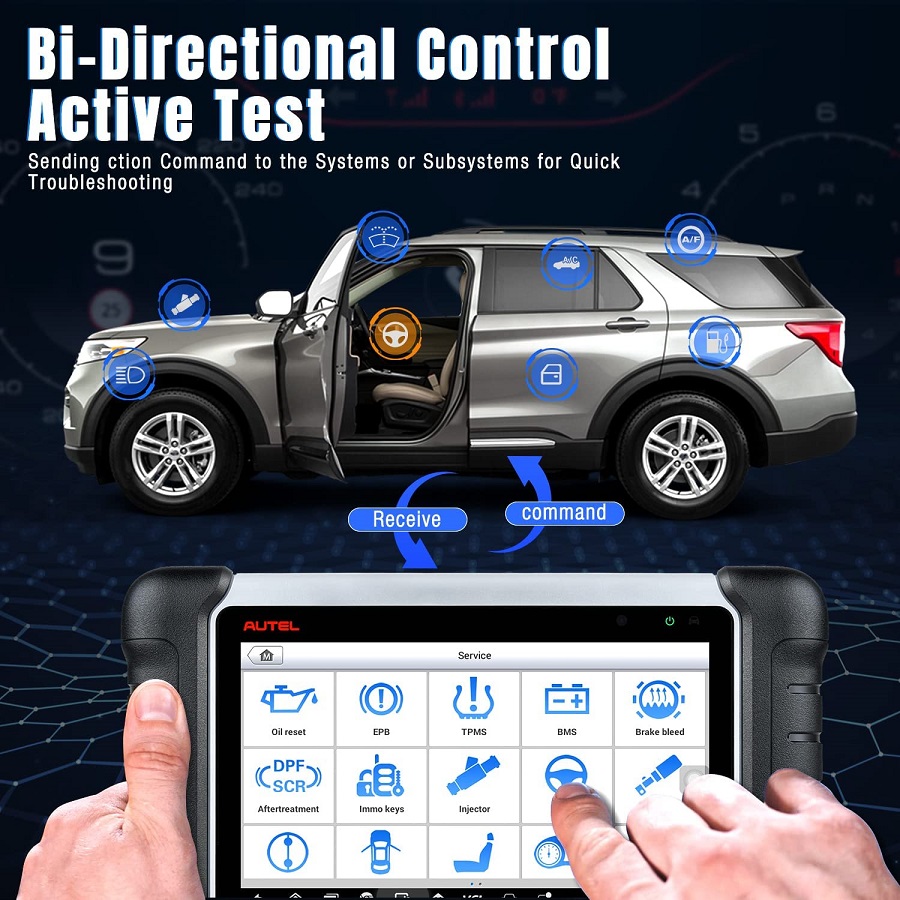 【All Systems Diagnostic, Make Full Check for Cars】Busy for a long time but can't find what's wrong with the car? Are you going to change your car? Take it easy! Autel MK808Z-BT scanner can scan all available car systems and perform OE-level diagnosis by reading/clearing codes, viewing live data of multiple sensors in text, graph & analog, freeze frame data, ECU info & Bidirectional conrol/active test. Just a few simple clicks, you can easily master the car situation. Not Support TPMS.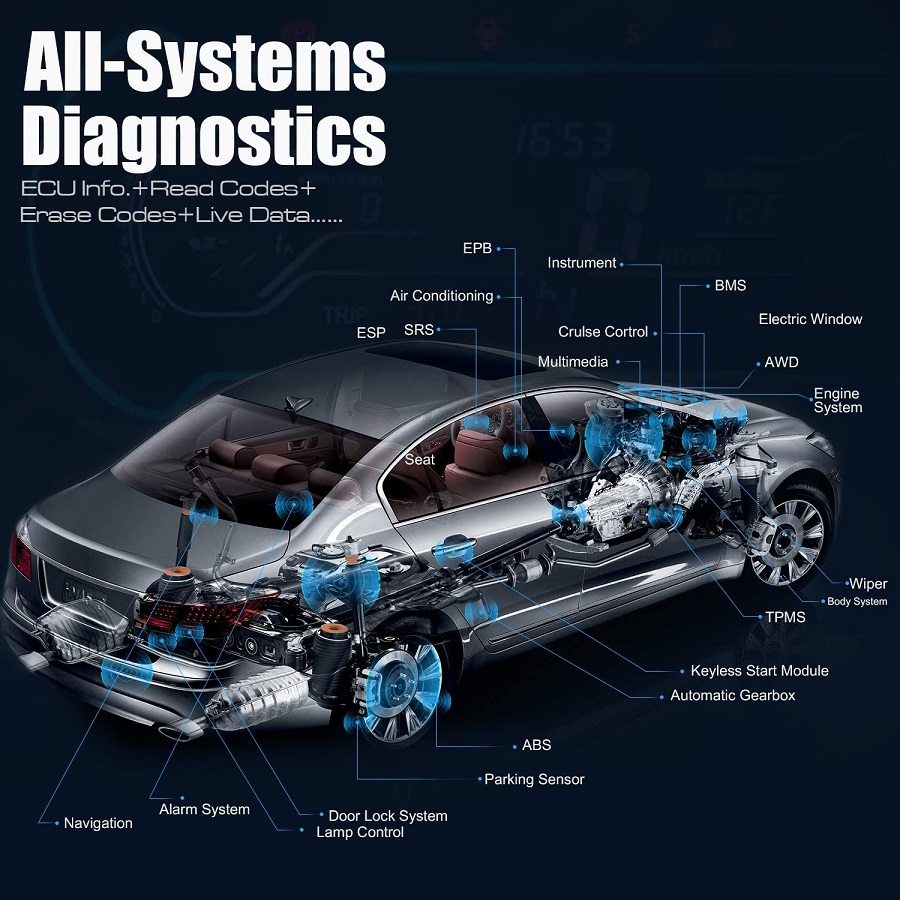 【Auto Scan & Auto VIN, Easy to Use】If you are worry about complex operation, MaxiCOM MK808Z-BT can avoid the trouble for you. AutoVIN technology allow MK808Z-BT to identity your vehicle's make, model, and year information with one click. More convenient is AutoScan that can automatically scan all vehicle's ECUs at one touch and find out fault codes. Note: AutoVIN does NOT work on all vehicles, depends on whether the VIN is programmed to car ECU or not. Always support manually input VIN.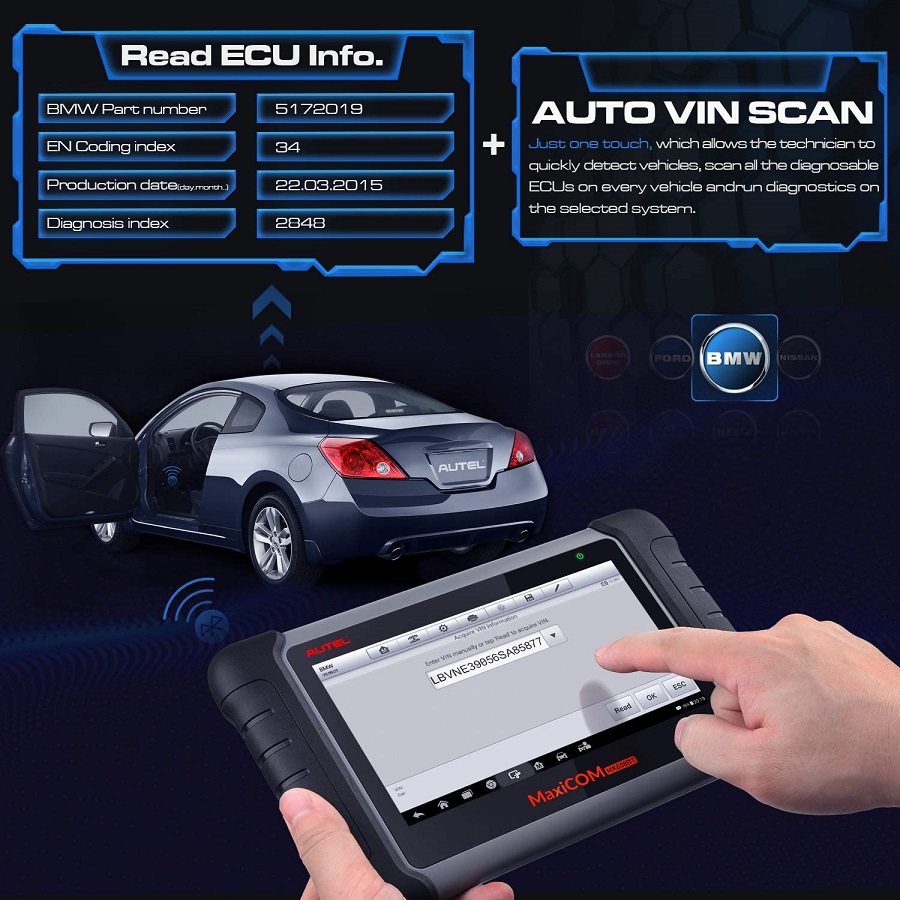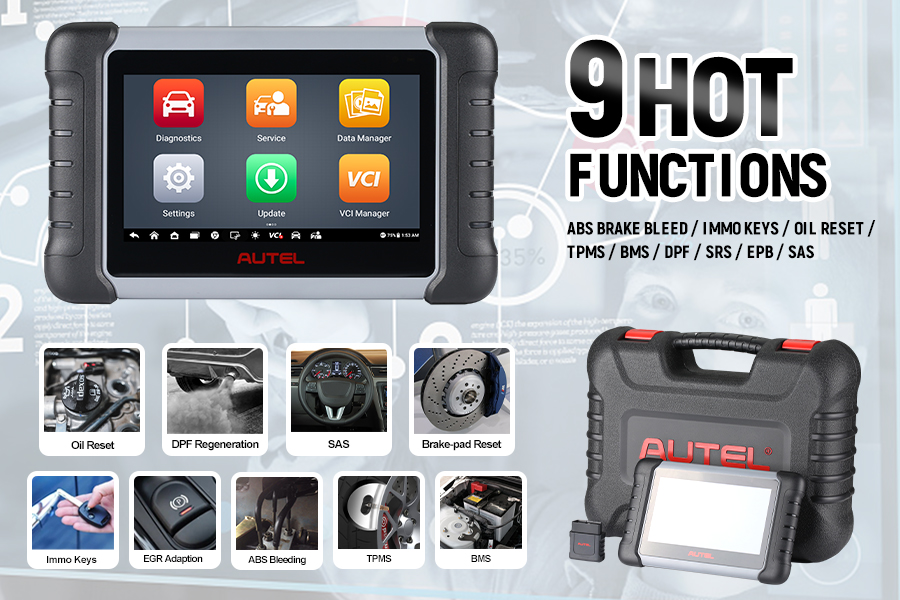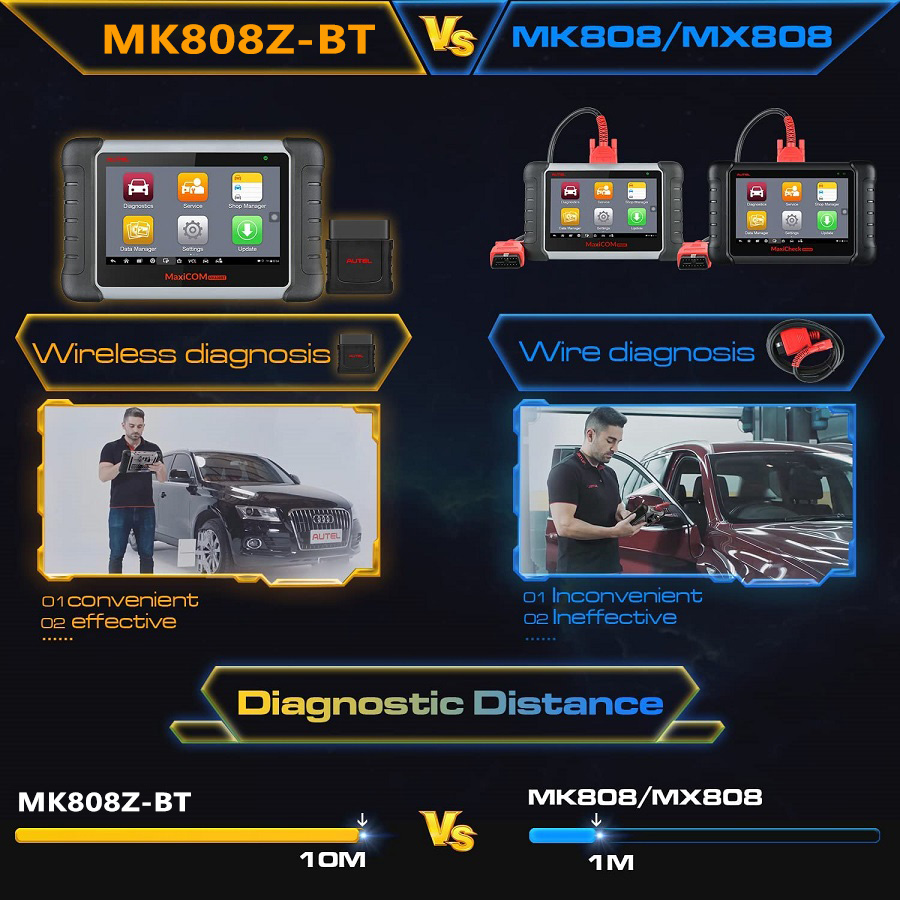 Product Specifications:
Recommended Use
Indoor
Operating System
Android™ 4.4.4, KitKat
Processor
Cortex-A9 processor(1.5GHz)
Memory
32GB
Display
7-inch LCD capacitive touchscreen with 1024x600 resolution
Connectivity
Mini USB 2.0
USB2.0
Wi-Fi
HDMI Type A
Micro SD card slot(supports up to 32GB)
Sensors
Light sensor for brightness auto changing
Audio input/output
Input: N/A
Output: buzzer
Power adn Battery
3.7 V/5000 mAh lithium-polymer battery
Charges via 5 VDC power supply
Tested Battery Life
Around 7 hours of continuous use
Battery Charging Input
5V/1.5A
Power Consumption
600 mA(LCD on with default brightness,Wi-Fi on)@3.7 V
Operating Temp
0 to 55°C(32 to 131°F)
Storage Temp
-20 to 60°C (-4 to 140°F)
Operating Humidity
5%-95%non-condensing
Protocols
ISO9141-2, ISO14230-2, ISO15765, K/L-Line, Flashing Code, SAE-J1850 VPW, SAE-J1850PWM,
ISO11898 (Highspeed, Middlespeed, Lowspeed and Singlewire CAN, fault-tolerant CAN),
SAE J2610,GM UART,UART Echo Byte Protocol, Honda Diag-H Protocol, TP2.0, TP1.6
Package Includes:
1pc x MK808Z-BT Tablet
1pc x USB External Power Adapter
1pc x USB Cable(for testing)
1pc x USB Cable(for charging)
1pc x MaxiVCI Mini
1pc x Quick Reference Guide
1pc x User Manual
If you have any questions, please feel free to contact us by following way:
Email: Sales@iDiyTools.com
Whatsapp: 0086-18046220975
Shipment Warm Tips:
We only ship to the address on Paypal. If you require a specific address to ship the order to, please make sure that you enter this in the Paypal confirmation before confirming payment. We will not ship to any other address under any circumstances. If you have asked for a change in address please add your shipping address on your paypal account,please leave a message on paypal when you check out, or send us the
screen shot of new shipping address under paypal account
to sales@iDiyTool.com or whatsapp:+86 18046220975.