Product Description
Lonsdor K518ISE Key Programmer with Odometer Adjustment for all makes
K518ISE key programmer is the latest version of Lonsdor, with wider vehicle coverage in key programming, it is customized as the first masterpiece to the overseas market from Lonsdor. With months of preparation and rigorous testing, from the software design to the user experience, it is an epitomize of Lonsdor years of industry experience. It is tailored and perfect for vehicle locksmith, to help making their work easier, faster and more powerful!
K518ISE main functions:
Immobilization
Odometer adjustment
Built-in Volkswagen 4th 5th adapter
Built-in Chip & remote detection module.
Free BMW FEM key programming
Lonsdor K518ISE Key programmer Special features:
Volvo (S40, S60, S80, XC60, XC90, C30, C70, V40, V60, V70) key programming.
Toyota/Lexus: smart key all key lost - via OBD ( without dismantle)
BMW CAS3/CAS3+/CAS3++: direct OBD programming
BMW CAS4/CAS4+: dismantle & read data programming
16 -New Maserati: smart key programming
16 -New Ford: smart key programming
Hyundai / Kia 46/47/8A smart key: PIN code reading via OBD, all key lost included.
Renault ( Megane, Koleos, Scenic) without PIN code key programming
VAG group 4th & 5th immobilizer system
Ferrari (458, F12, F149): direct OBD programming
Peugeot /Citroen: two ways to read PIN code & programming, all keys lost included.
Cars coverage list for immobilization:
Europe:
Audi, BMW, Benz, VW, Volvo, Citroen, Ferrari, Maserati, Fiat, Lamborghini, Jaguar, MG,
Land Rover, Bentley, Lancia, Opel, Peugeot, Porsche, DS, Renault, Alfa Romeo, Smart,
Borgward
America:
Cadillac, Chevrolet, Dodge, GMC, Buick, Hummer, Ford, JEEP, Lincoln, Mercury
Asia:
Honda, Hyundai, Isuzu, KIA, Lexus, Mazda, Mitsubishi, Nissan, Ssangyong, Subaru, Suzuki,
Toyota, Shigaoka Queen
China:
Iveco, Trumpchi, BYD, Geely, Chery, Great Wall, Young Lotus (Basically all Chinese car
models are included)
Odometer Adjustment Car List:
VW, Porsche, Ford, Jaguar, Land Rover, Mazda, Audi, Renault, Hummer, Hyundai, Kia...
Note: more high-end cars will be updated very soon.
Note:
K518ISE is still under rapid upgrading, more functions and be released soon, please refer to our website www.lonsdor.com foalso you can "One key update" for the latest version by yourse
K518ISE key programmer
features:
2.WIFI networking ensures software upgrading more convenient.
3.No need to plug memory card, or connect the computer with data cable, more flexible in online upgrading, updating and activating.
4.with USB-B2.0 standard connector, OBD-II test cable integrated with the diagnostic connector function of the adapter.
5.
The speed is greatly accelerated, working efficiency is improved, better time saving.
6.7 inches high brightness, high definition color IPS capacitive screen
7.3800mAh polymer battery
8.Support external memory expansion, better within 32G
9. Built-in professional, powerful operation assistant system
10. Language available: English

K518ISE key programmer Function Description:
Please pay attention to below function description before using the device.
1. Immobilization: immobilizer system diagnosis
2.Odometer adjustment: mileage diagnosis and correction
3.Hardware testing: test if the hardware can function well
4.Adapter: after dismantling, diagnose certain car models
5.Setting: set up basic device information
6.Update firmware: adapter firmware upgrade & update (connect KPROG adapter
7.with OBD test cable and connect K518ISE with 12V power supply)
8.One key upgrade: click to update to the latest system data
9.Shutdown - turn off the device
SKE-LT: Smart Key emulator - Toyota/Lexus smart key for all key lost via OBD

(Optional)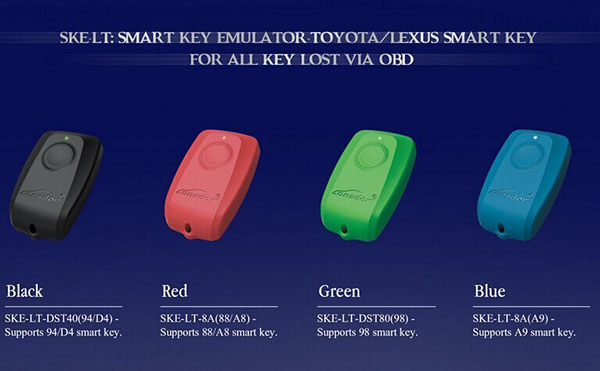 Black: SKE-LT-DST40(94/D4) -Supports 94/D4 smart key.
(Optional)
Red: SKE-LT-8A(88/A8)-Support 88/A8 smart key.
(Optional)
Green: SKE-LT-DST80(98)-Supports 98 smart key.
(Optional)
Blue: SKE-LT-8A(A9)-Supports A9 smart key.
(Optional)

L518ISE main unit outlook: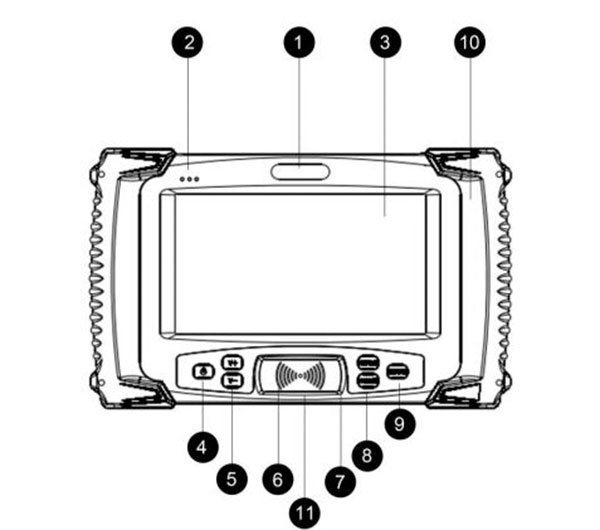 1. Trademark: Lonsdor
2. Three-color indicator in turn will be: red - external power supply; blue - system power;
yellow - communication status
3. Capacitive touch screen: display and touch operation function. 4. Switch: press and hold for 3s to start. When in start state, press and hold for 3s to restart
or shutdown, for 10s to force to restart. 5. Volume: adjust volume size
6. Key frequency & chip recognition system: place the key on the surface to detect
frequency, push the slot shell to the right and put the key inside to detect chip
7. Setting: enter to set
8. Home: home page interface
9. Return: back to previous step
10. Built-in antenna: antenna inside
11. Model: K518ISE
Screen shot: press power button and volume down button together
Main

interface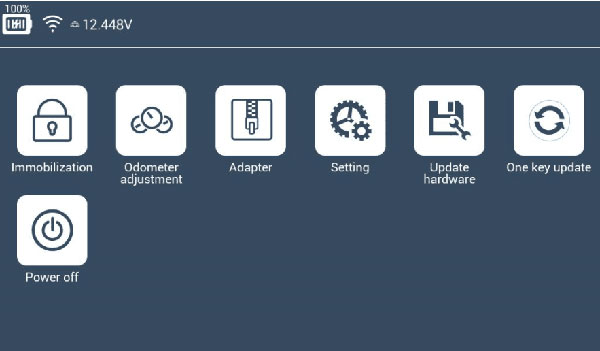 Immobilization interface: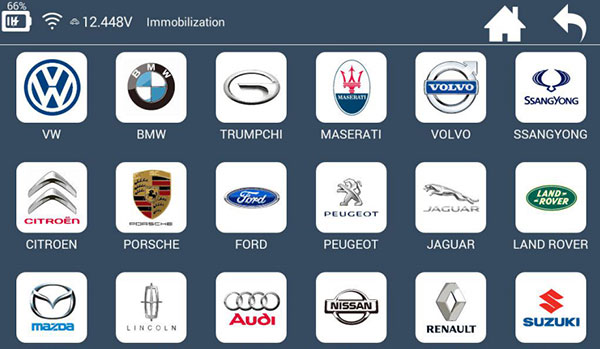 Odometer adjustment

interface: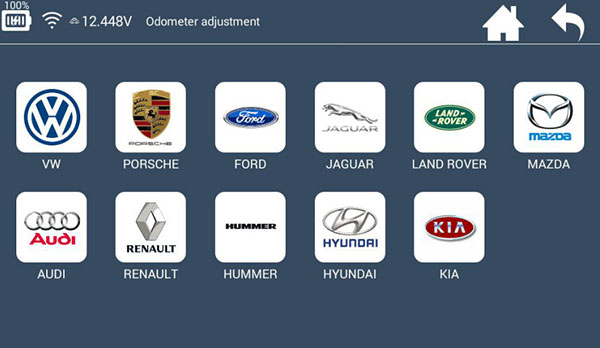 Setting interface: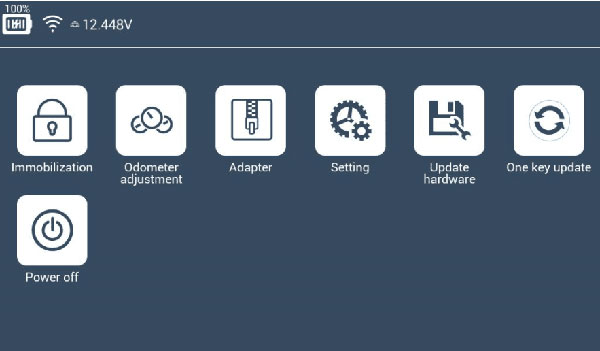 K518ISE Key Programmer
Technical Parameter:
RFID Support: 125KHz ASK;
134.2KHz FSK
Battery capacity :3800mAh
CPU:ARM Cortex-A7 Quad-core
Processor Speed 1.34GHZ
Power supply :DC12V 1A
WIFI communication distance :10m
Power port:5.5x2.1mm
Display:1024x600, 7 inch IPS
capacitive screen
OBD port: OBD-II
Memory :eMMC 8G RAM 1G
Comm port: USB2.0-type B
OBDII protocols: ISO15765, ISO9141, ISO14230, SAEJ1850, KW1281, VW TP1.6 TP2.0 etc.
KPROG: support programming MCU and EEPROM on ECU circuit board.
Package includes:
1 x Portable Bag(big)
1 x Main Host
1 x Power Adaptor
1 x USB Cable
1 x Packing Bundle
1 x OBD Test Cable
3 x Extra Connector
1 x Londor K518ISE User Manual
1 x Portable Bag(small)
1 x KPROG Adapter
1 x RN-01 Board
1 x E-01 Board
1 x FS-01 Board
1 x 20P Cable
5 x Backup Pin
1 x Certificate
If you have any questions, please feel free to contact us by following way:
Email: Sales@iDiyTools.com
Whatsapp: 0086-18046220975
Shipment Warm Tips:
We only ship to the address on Paypal. If you require a specific address to ship the order to, please make sure that you enter this in the Paypal confirmation before confirming payment. We will not ship to any other address under any circumstances. If you have asked for a change in address please add your shipping address on your paypal account,please leave a message on paypal when you check out, or send us the
screen shot of new shipping address under paypal account
to sales@iDiyTool.com or whatsapp:+86 18046220975.