Application scenarios
●During road rescue, or door-to-door service, our portable Thinkcar Pro diagnostic connector is the best choice for service technicians.
●No need for Small repair workshops to buy expensive diagnostic tools, Thinkcar Pro can satisfy the demands on car diagnosis of different vehicles.
●For DIY car owners with maintenance skills, it is very useful to have this full-featured, powerful, yet affordable diagnostic device in their pocket.

Technical Service Support

We can provide consulting services and repair assistance for common car failures. We combine industry knowledge to provide customers with high-quality products and maintenance solutions to benefit our customers.
Professional, Efficiency and Quality is always our mission.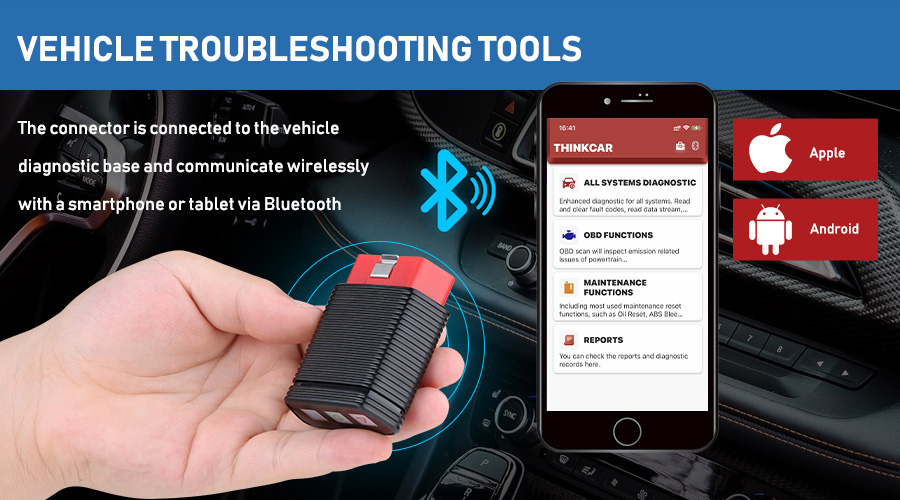 Product Features
●The software supports Android and Apple ios systems.
●The software supports multiple languages and displays with the phone system language.
●Software supports full system diagnosis for hundreds of models (engine, transmission, ABS, SRS, SAS, TPMS etc).
●Support 5 special functions (ETS, IMMO, INJECTOR, OIL, SAS).
●Software support online upgrade.
●Suitable for different groups of users (maintenance factory, 4s service station, car DIYers).
●The device is connected to the mobile phone via Bluetooth, and it is light and easy to carry when going out.
●ThinkCar pro offers professional diagnostic reports.
After the diagnosis, a complete diagnostic report is automatically generated to clearly understand malfunctions of the vehicle. You can also share the report to the community, facebook, twitter, to facilitate sharing and discussion with friends.
Product Functions

1. Full System Diagnose
With superior all systems diagnostics, this multipurpose obd2 scanner can be used to read all available systems ECU information to facilitate the vehicle diagnosis. The complete systems vary from different cars and they usually include
engine, transmission, ABS, SRS, SAS, TPMS, EPB and chassis / body / electrical equipment system etc.
2. Traditional Diagnostics
Supports manual selection of car model software to complete vehicle diagnostics, including reading DTC, clearing DTC, reading data stream, reading version information, etc.
3. OBDII & EOBD Full Functions
1) Real-time data, MIL, IM monitors
2) Freeze frame data
3) Stored DTCs
4) Clear DTCs
5) O2 monitoring tests
6) Test results for continuously and non-continuously monitored systems
7) Pending DTCs
8) Request control of on-board-system or component
9) Request VIN and other data
10) Permanent DTCs

4. Supports 5 maintenance RESET functions:
Oil Lamp Reset Service: allows you to reset for a new calculation of engine oil life system once the oil is changed.
SAS Service: helps clear the error steering angle sensor reminders and plays an important role in the steering angle sensor calibration.
IMMO Key Programming: The unique auto key programming and reading pin code function, it is mainly to deactivate the lost vehicle key and program a new replacement key fob.
Injector Coding: Leaking injectors and some dead injectors can be missed even if an injector is disabled. Other problems with the ignition system and mechanical components also may not show a rpm loss when injector is turned off
Throttle Adjustment(ETS): The throttle body is a tube with a swiveling flat valve (butterfly) used to control the amount of air entering a motor. In an electronically fuel injected car, a throttle position sensor and airflow sensor communicate with the computer, which delivers the appropriate amount of fuel needed to the injectors.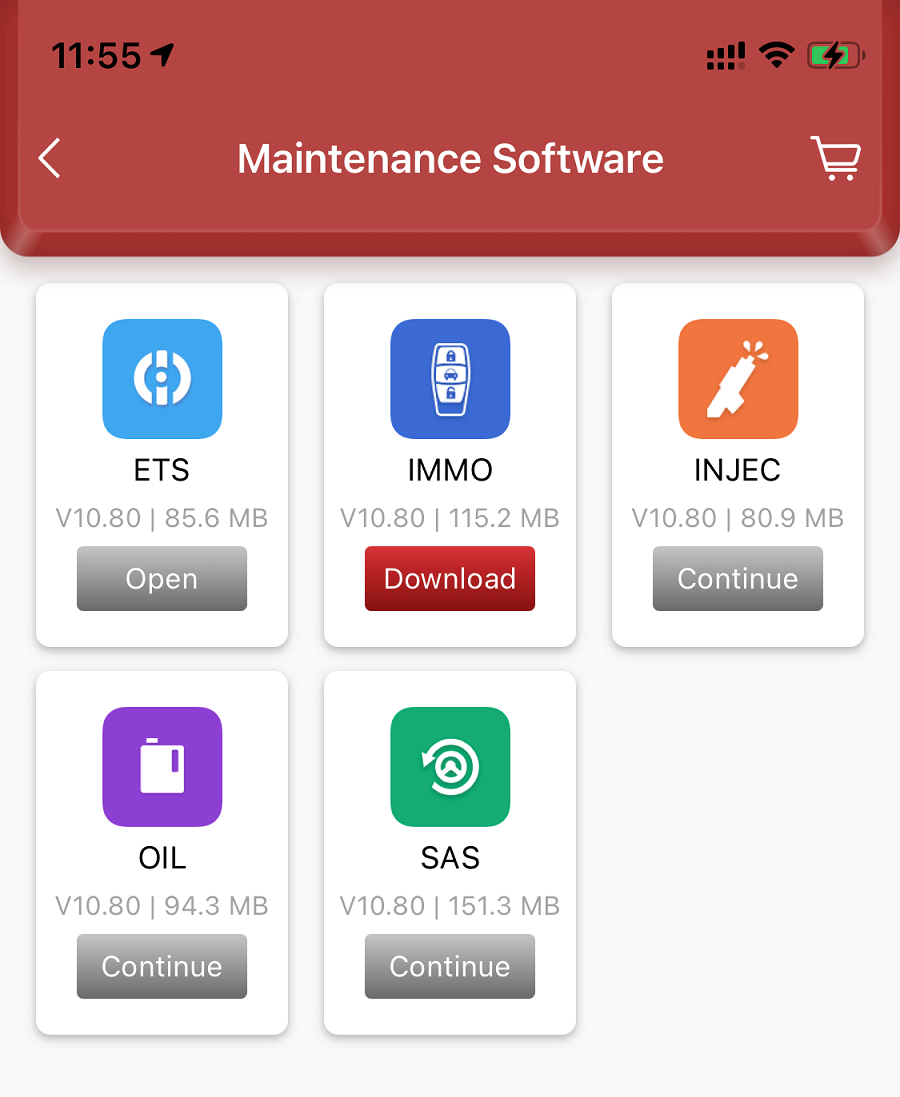 OBDII&EOBD full functions

●Real-time data, MIL, IM monitors
●Freeze frame data
●Stored DTCs
●Clear DTCs
●O2 monitoring tests
●Test results for continuously and non-continuously monitored systems
●Pending DTCs
●Request control of on-board-system or component
●Request VIN and other data
●Permanent DTCs

Vehicle Coverage:

Please contact customer service for detailed models
Covering most models in the U.S., Europe and Asia Pacific regions.

Europe:
Ford Europe、Mercedes Sprinter、MINI、Seat、Audi、GMSA、Fiat、Opel、GAZ、Peugeot、 Volkswagen、Citroen、Skoda、 Porsche、 Rover、 Land Rover、
Volvo、 VAZ、Renault、 Smart、 Mercedes-Benz、 Jaguar、Dacia、Lancia、BMW、Romeo、Saab
America(USA) :
Chrysler、Ford、GM、GMC、BUICK、Saturn、Pontiac、Chery
Asia Pacific region:
Isuzu Thailand、Acura、Daewoo、Jianghuai(GM)、SsangYong、Infiniti、Proton、Honda、Mazda、PERODUA、Jiangling Auto、MAHINDRA、Isuzu、Suzuki、
BYD、Nissan、Chery、Toyota、Zhongshu, Kia、GreatWall、DAIHATSU、Changan、Geely、Xiamen Jinlong, ZX Auto、Hafei Auto、Xinkai Auto、 Gonow、Changhe、
Hyundai、Liuzhou Wuling、Subaru、Xiali、AUFord、Mitsubishi、TATA、Zotye、 Horton、MARUTI、Lexus.
ThinkCar Store

Thinkcar pro charging method:
For OBD2 Function: Lifetime Free for All Vehicles After 1996
For Full System Diagnostic: Free for All Vehicles After 1996
For Reset Special Function: $29.95 for All 5 Reset Functions Per Year After the First Year.

Now we are engaged in activities, and we will give away 5 models of software for new models.
Software purchase method:

1. Download "ThinkDiag" software from Google Mall or Apple App Store to install
2. Insert the connector into the vehicle obd interface
3. Turn on Bluetooth on the phone and connect the connector in the app
4. In the mall, select the software you need, choose to add a shopping cart or buy
5. Choose the payment method. Currently, bank card and Tcde payment methods are supported (Tcade payment is the official payment code of Star Card.
You need to go to the official website to purchase. After purchase, you will get a 12-digit number, and then enter it when you pay. Deductible cash)
6. All users can participate in official activities, or earn points through sharing, etc., points can be used to deduct the purchase of diagnostic software, 1 point = 1 USD

Package includes: