Product Description
CRSCAN F04
CARS CAN F04 Underground Cable Non-Destructive Locator, adopts new wireless signal transmitting & receiving technology, can quickly locate breakage or short-circuit point of wires, and no need to break insulators on the surface of cables. It's most applicable to locating network communication cable, digital signal cable, underground cable, through-wall cable, concealed trench pipeline cable, underground irrigation cable, and cables' breakdown point & direction in the construction site. It also applies to courtyard underground cable, underground garden irrigation cable, underground industrial power cable, underground communication cable, underground urban road cable, underground agricultural & forestry irrigation cable, underground cable in animal husbandry area, Breakdown point location of underground cables laid and cable direction tracking. Affordable and reduce unnecessary construction. (Notice: The device cannot detect live cables, so make sure cables are neutral before connecting the device. Safeguards must be taken. Live cables would bring damage to this device, and danger to users!)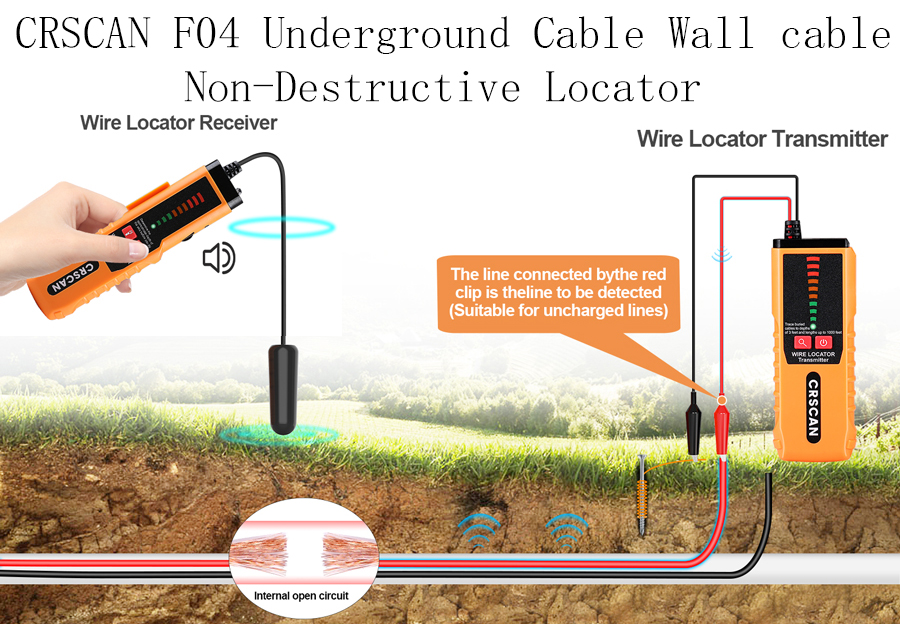 2. CRSCAN F04Underground Cable Non-Destructive Locator 8 features:
1) With new wireless signal transmitting & receiving technology, it can quickly locate breakage point, short-circuit point and direction of underground cables and no need to break insulators on the surface of cables
2) Reduce electromagnetic noise interference to enhance users' judgement via simulating digital communication mode
3) Adjustable wireless transmission power, adjustable sound-receiving controller and high-sensitivity earphone bring more convenience and comfort
4) The receiver with lighting function also applies to low-light conditions.
5) Movable detecting head relieves users' stoop work intensity, and improve detecting depth of blind ditch.
6) Lower-power consumption extends prolong working hours.
7) Supplied power by 9V electronic technology battery. Easy to replace.
8) Detection reaches 2000 feet in distance and 2 feet in depth. Portable, easy and fast.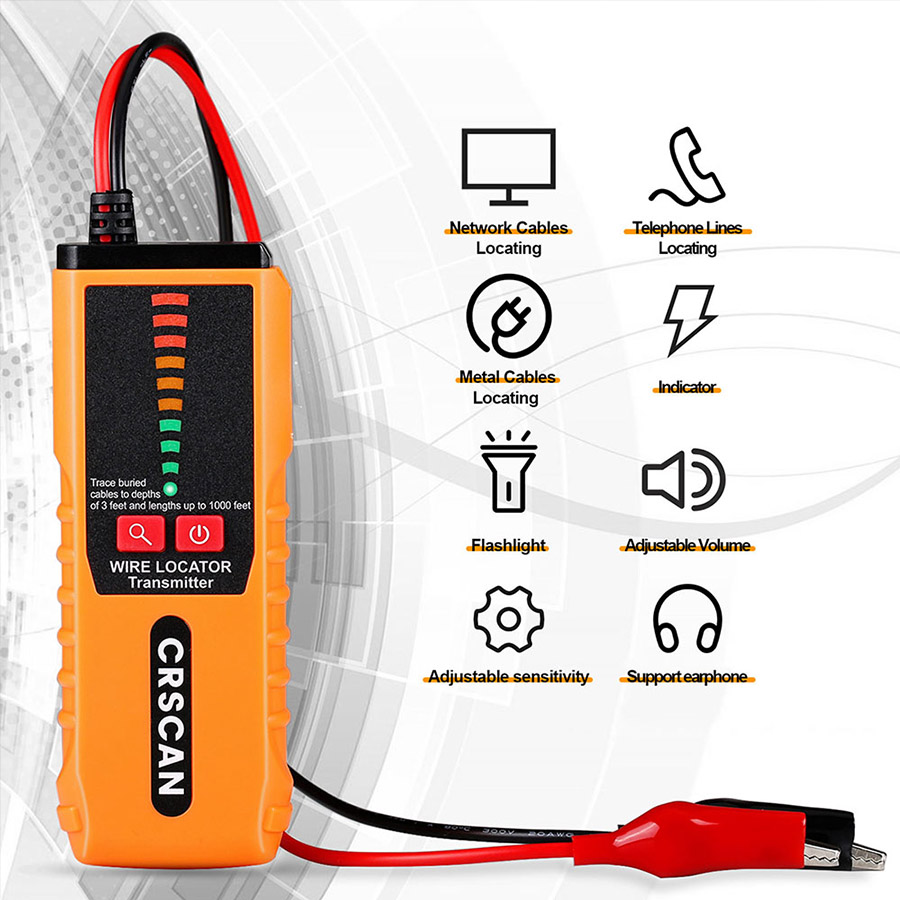 CRSCAN F04 Underground Cable Non-Destructive Locator,It is especially convenient to locate the direction of the breakpoint of the network communication wire, digital signal wire, underground cable, wall-through cable, dark ditch pipeline cable, underground irrigation cable, and cable in the construction area.The product is suitable for wiring underground cables in courtyards, underground cables for garden irrigation, underground cables for industrial power, underground cables for communications, underground cables for urban roads, underground cables for agricultural and forestry irrigation, and underground cables for wiring in livestock areas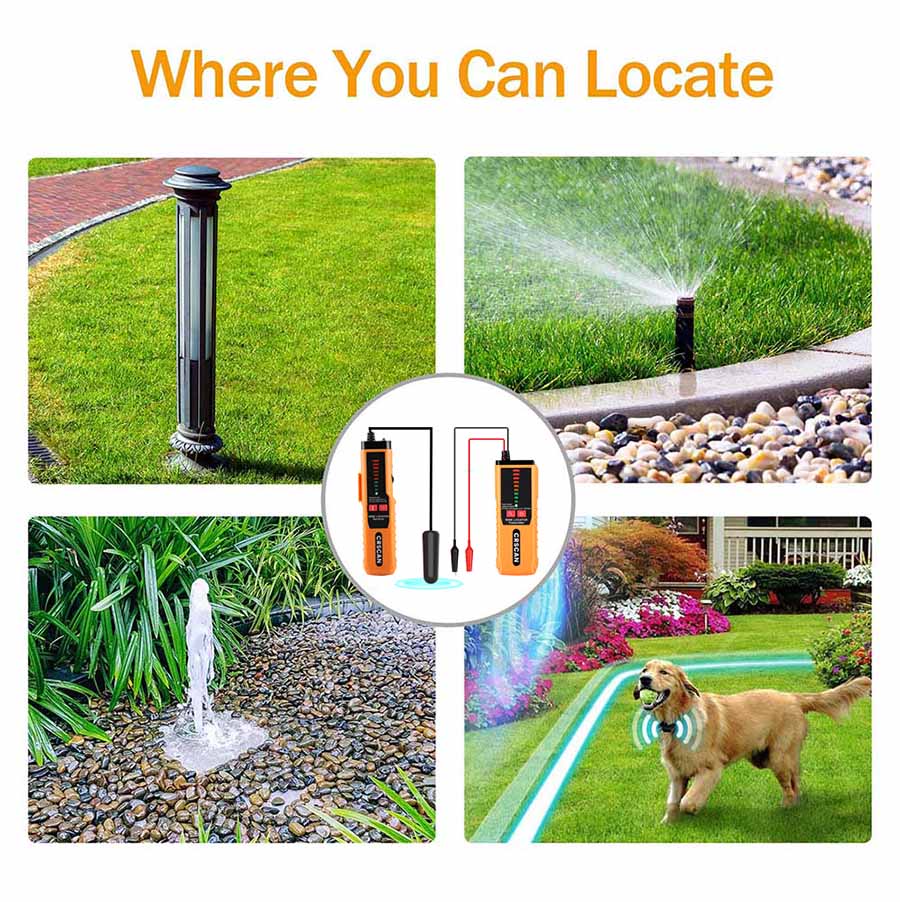 4. What's wrong with your?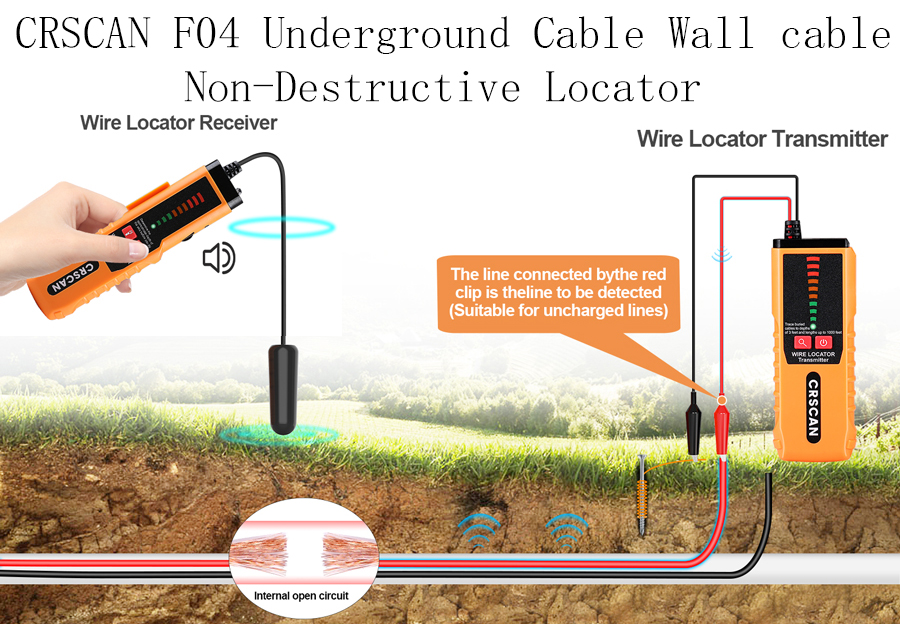 1) When it comes to no lighting, no power supply, no communication, motor stopping etc., make sure other switch accessories are normal and troubleshoot problems of wires and cables before use.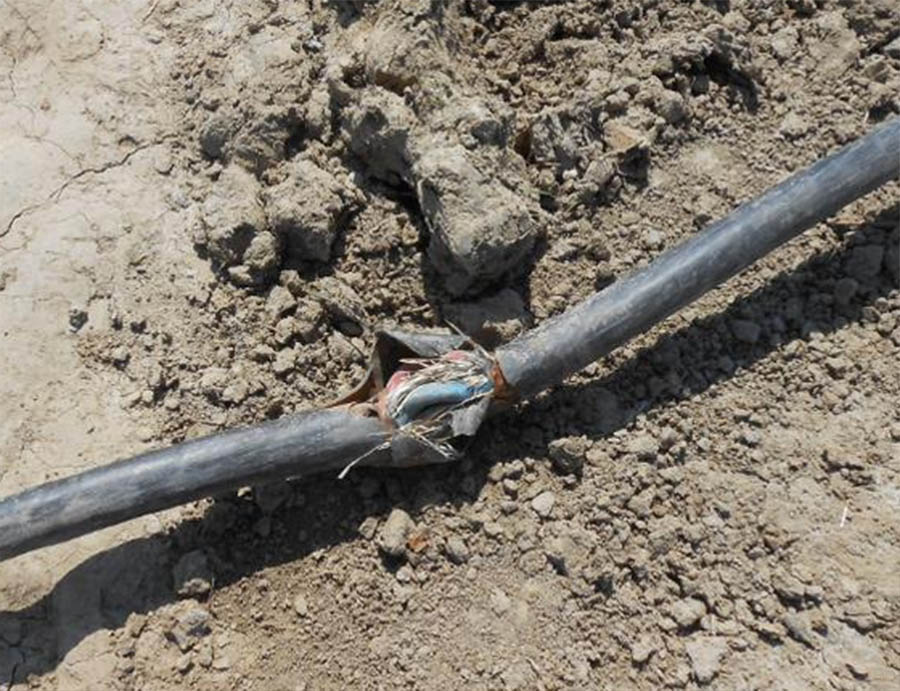 2) Avoid damaging cables when searching cables direction on construction site.
5. How to Use & Using Tips
1) Open battery compartment by a screwdriver, and install batteries to transmitter and receiver.
2) Hold power button for at least 3 seconds to turn on transmitter and receiver respectively.
3) Keep the transmitter away before adjusting receiver's volume.(To prevent users from loud voices)
4) Press transmitter's signal-output search button. Adjust transmitter's power.
5) Get the receiver slowly close to the transmitter until the user can hear and judge the sound in search of cables. Meanwhile, users can hear the sound varying in volumes (louder voice means it gets closer to cables). Easy to locate and track cable breakage point.
6) Red line of transmitter clips the cable to be detected, black line doesn't have to be connected. (To improve detecting distance and anti-interference capability, users can connect black line to the earth. It can be a grounding pile or a grounding pile made by a metal rod into the earth)
7) Turn on lamp in low-light environment.
8) Using tips: adjust transmitter's power and receiver's volume, and then swing detecting head to locate cable breakage position by receiver's volume.
(Result judgment: receiver keeping sounding indicates cables are connected. Weakened sounds indicate detector getting away from tested cables.
Short-circuit judgment: if receiver sounds by detecting an untested cable, this cable is short-circuited.)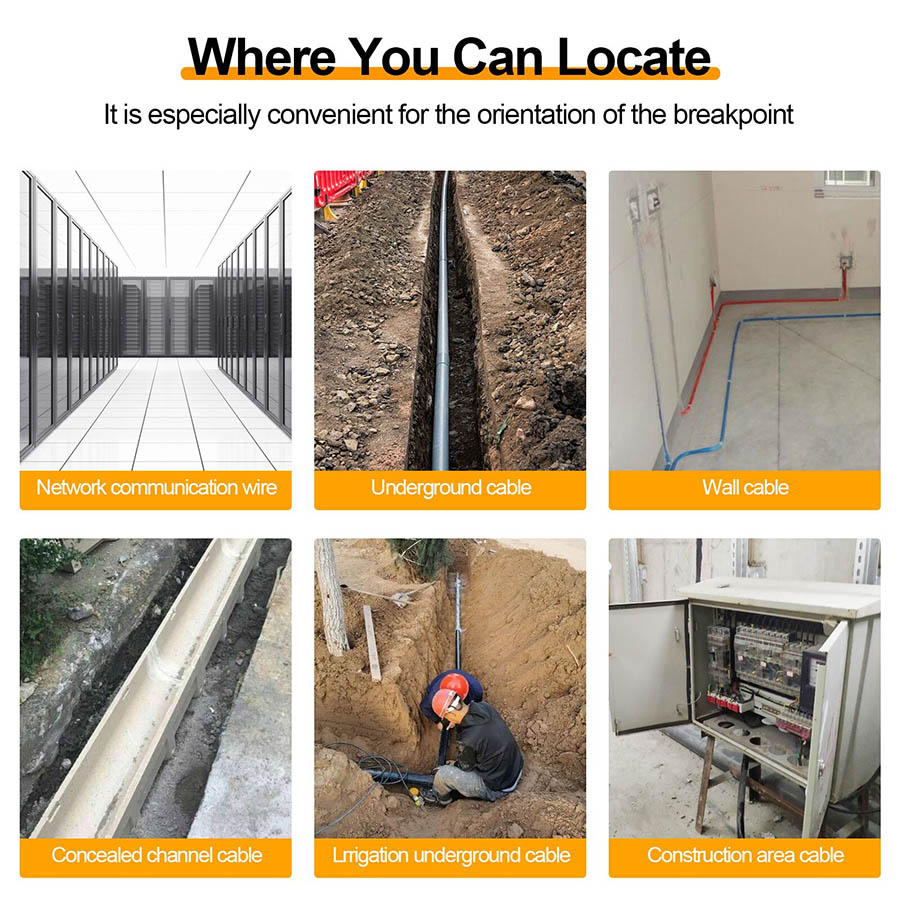 1) Integrated sound and display, professional signal indicator and adjustable power and sound. Personalized operation.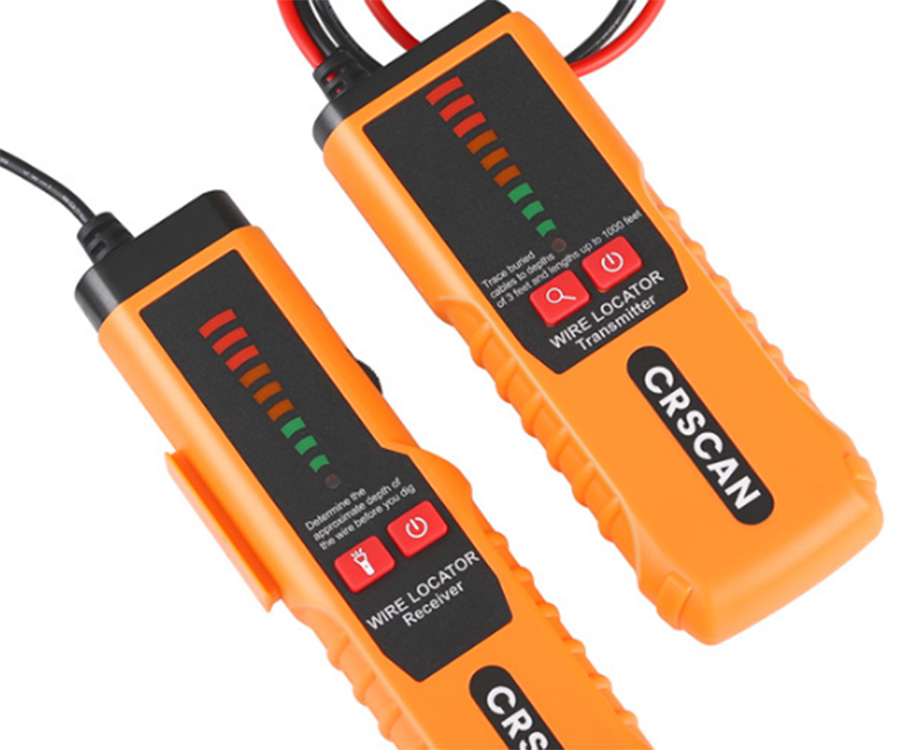 2) High-sensitivity + flexible wire reduce stoop working intensity.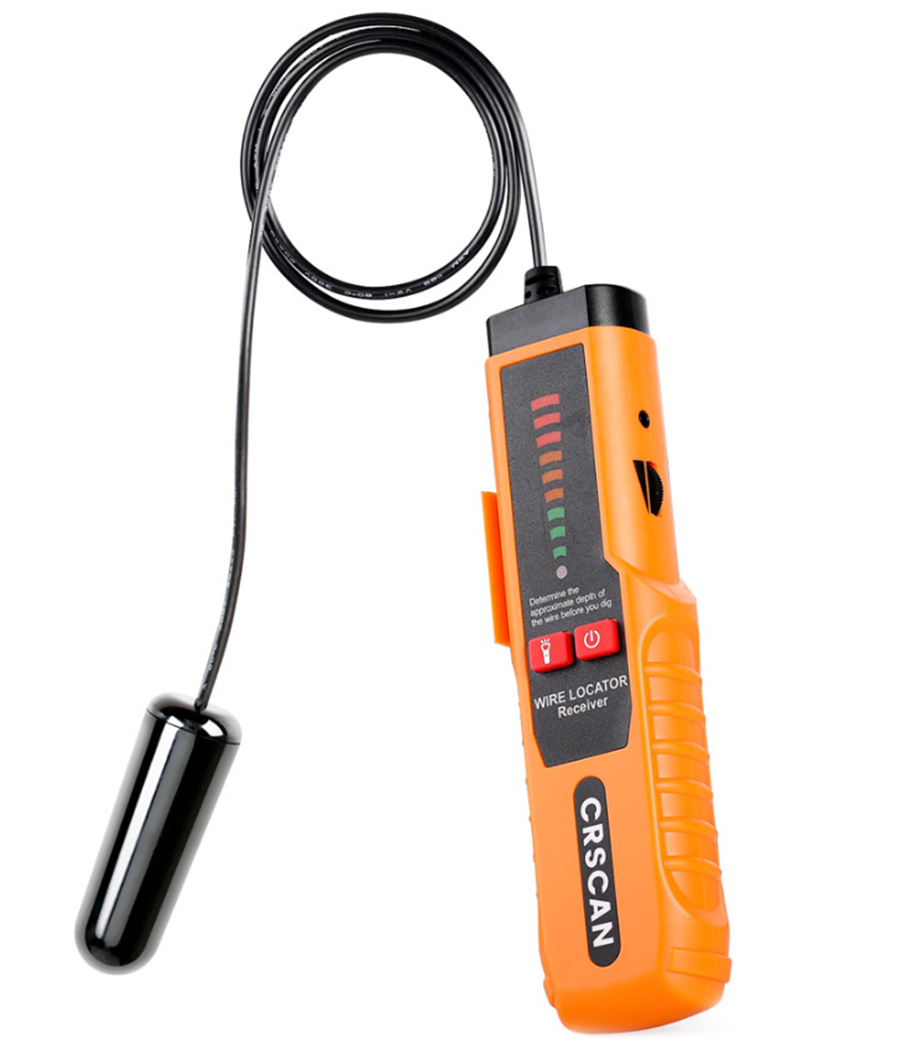 3) assembly and non-slip structure for easy storage.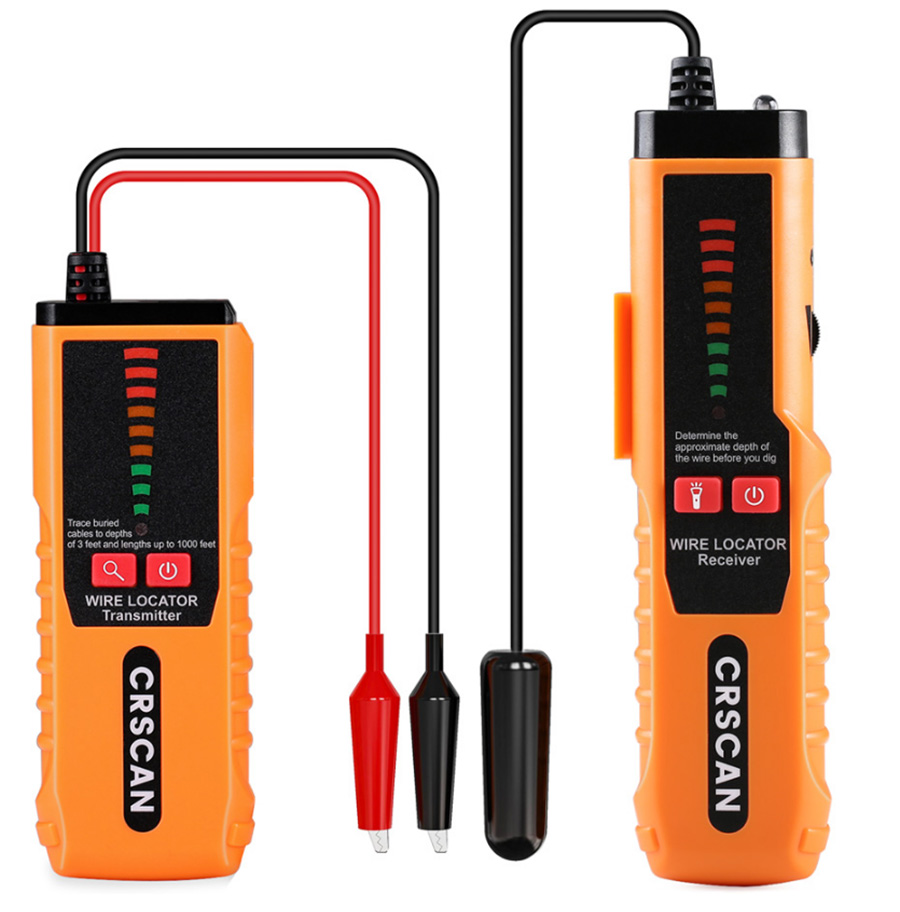 4) Silica gel button brings comfortable use and long service life.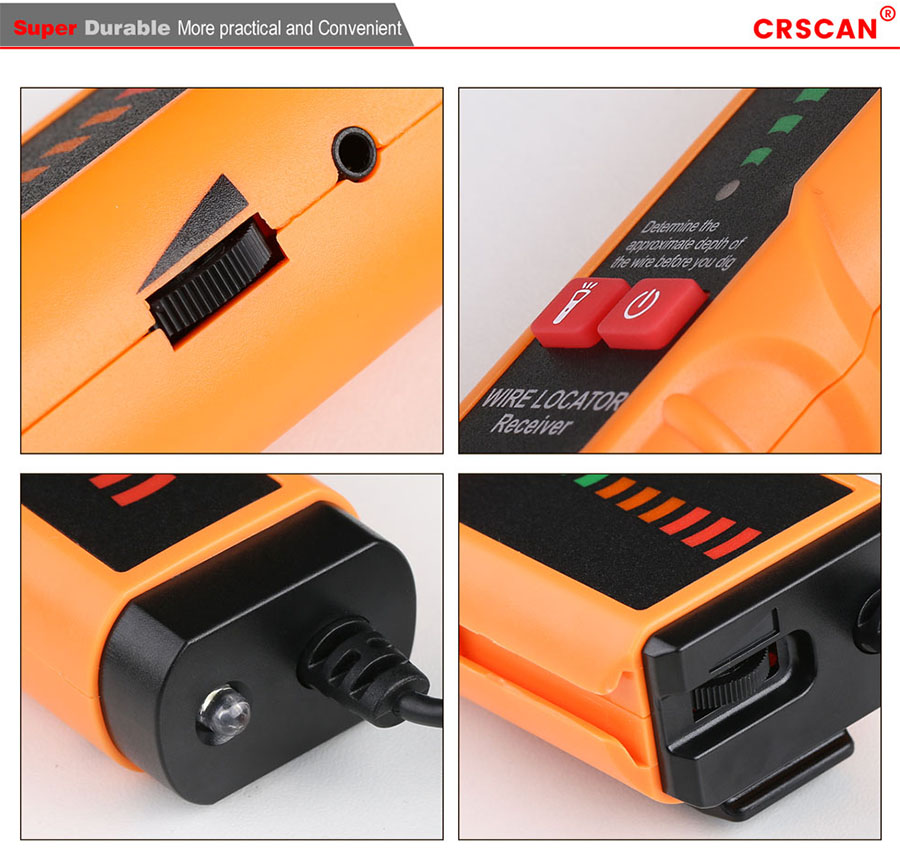 5) Lamp applies to dark environments.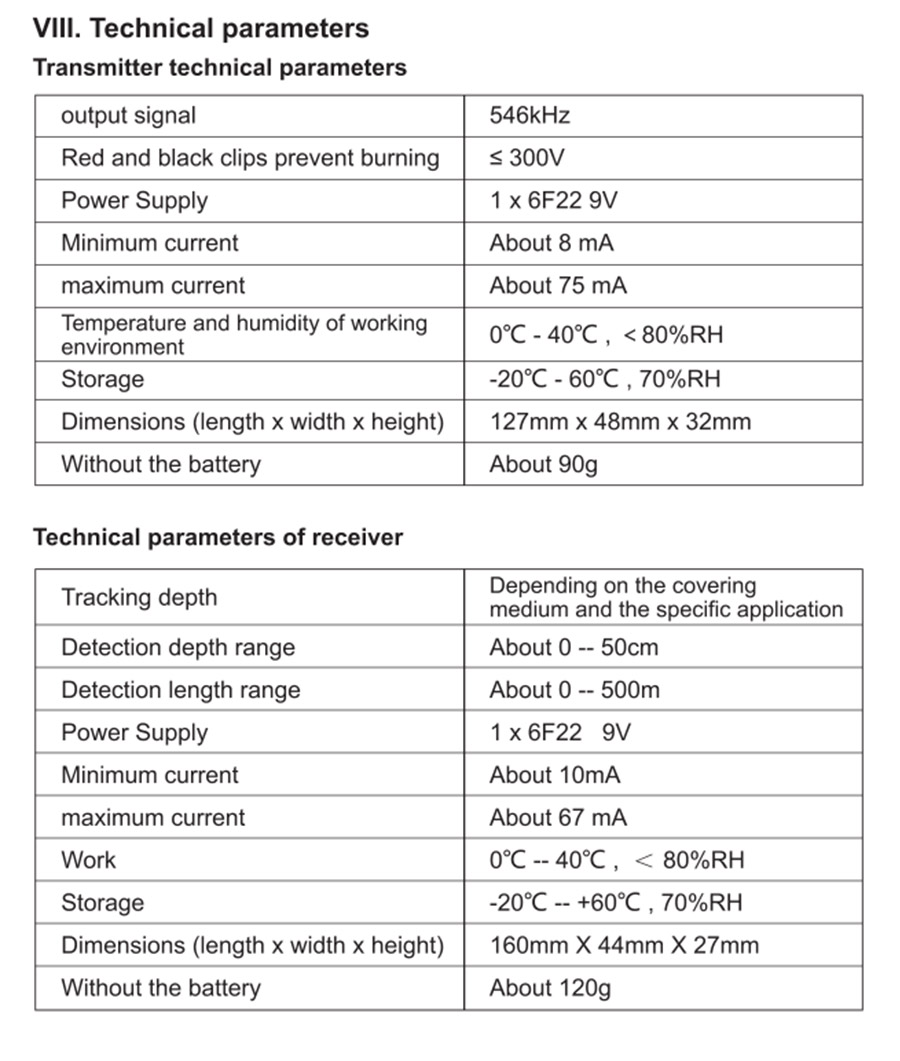 7. User manual language

Package includes:
1pc x CRSCAN F04
1pc x Transmitter
1pc x Receiver
1pc x 2.5mm headphone
2pc x 9V 6LR61 high-quality battery
1pc x Storage bag
1pc x User manual
If you have any questions, please feel free to contact us by following way:
Email: Sales@iDiyTools.com
Whatsapp: 0086-18046220975
Shipment Warm Tips:
We only ship to the address on Paypal. If you require a specific address to ship the order to, please make sure that you enter this in the Paypal confirmation before confirming payment. We will not ship to any other address under any circumstances. If you have asked for a change in address please add your shipping address on your paypal account,please leave a message on paypal when you check out, or send us the
screen shot of new shipping address under paypal account
to sales@iDiyTool.com or whatsapp:+86 18046220975.