Product Description
QUICKLYNKS BA101 Automotive 12V Vehicle Battery Tester is designed to test the condition of the automotive battery using conductance method. Unlike the conventional method of draining the battery by applying resistance load to it and obtain the result from the meter gauge; this analyzer utilizes a series of pulsed voltage across the battery cells and observes the AC current that flows in response to it.<br />
QUICKLYNKS BA101 Automotive 12V Vehicle Battery Tester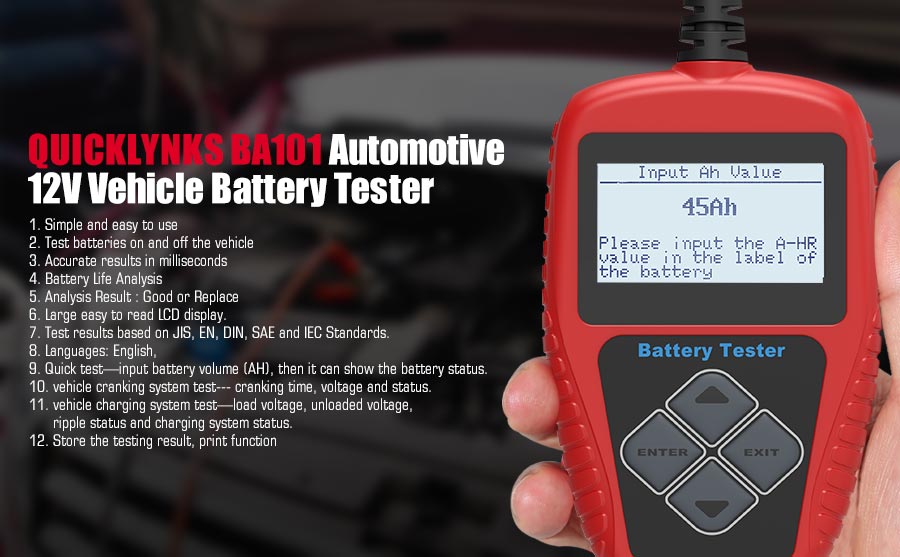 QUICKLYNKS BA101 Automotive 12V Vehicle Battery Tester Advantage:

1. Simple and easy to use
2. Test batteries on and off the vehicle
3. Accurate results in milliseconds
4. Battery Life Analysis
5. Analysis Result : Good or Replace
6. Large easy to read LCD display.
7. Test results based on JIS, EN, DIN, SAE and IEC Standards.
8. Languages: English,
9. Quick test—input battery volume (AH), then it can show the battery status.
10. vehicle cranking system test--- cranking time, voltage and status.
11. vehicle charging system test—load voltage, unloaded voltage, ripple status and charging system status.
12. Store the testing result, print function

QUICKLYNKS BA101 Automotive 12V Vehicle Battery Tester Benefit:

1. Conductance correlates directly to the battery capacity
2. Passive testing method is safe.
3. Never discharges or drain the battery.
4. Able to test condition of discharged battery.
5. Consistent and repeatable results.
6. Provides unique indication of battery conditions.
7. Provides check the Alternator's charging and Starter's cranking conditions. It is maintenance free and no internal batteries required.
8. Powers up when connected to the battery posts during testing.
QUICKLYNKS BA101 Automotive 12V Vehicle Battery Tester Function:

Test Result: Good or Replace
Capacity - Cold Cranking Amps (CCA), DIN, EN and IEC information relative to battery rating.
Internal resistance value (m )
Life in percentage (%)
Cranking system
Charging system

Application:

Use to test a wide range of 12V batteries (Starting [SLI], Deep Cycled and Marine) of Wet (Flooded),
VRLA or Maintenance Free (MF), Sealed Maintenance Free (SMF), Absorption Glass Mat (AGM) and GEL cell.
The major battery standards JIS, SAE, EN, DIN and IEC are supported.

Operating Parameters:

System voltage: 12 Volts
Input voltage range: 9V~15V
Power requirements: No internal batteries required. Power on when hooked up during testing.
Testing range: 100 ~ 2000 CCA, 100 ~ 1000 DIN, 100 ~ 1000 IEC, 100 ~ 1700 EN
AH range: 30-220AH
QUICKLYNKS BA101 Automotive 12V Vehicle Battery Tester Testing Result:




Package including:

1pc x QUICKLYNKS BA101 Automotive 12V Vehicle Battery Tester
If you have any questions, please feel free to contact us by following way:
Email: Sales@iDiyTools.com
Whatsapp: 0086-18046220975
Shipment Warm Tips:
We only ship to the address on Paypal. If you require a specific address to ship the order to, please make sure that you enter this in the Paypal confirmation before confirming payment. We will not ship to any other address under any circumstances. If you have asked for a change in address please add your shipping address on your paypal account,please leave a message on paypal when you check out, or send us the
screen shot of new shipping address under paypal account
to sales@iDiyTool.com or whatsapp:+86 18046220975.